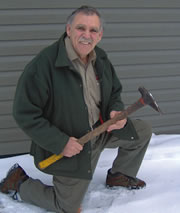 Mickey Clement has prospected his entire life. As far back as he can remember he would pan for gold alongside his father and grandfather.
His passion never made him wealthy but he has one claim to fame. Clement's discovery of two diamonds in the Dead River near Wawa fueled a new wave of diamond exploration in Northern Ontario.
The alluvial diamonds were noticed by a geologist who convinced Clement to pass them on to the Ontario Geological Survey (OGS). The OGS confirmed that they were industrial-grade diamonds of 1.13 and 1.05 carats. They now make their home in the Royal Ontario Museum in Toronto.
The 1991 discovery recently garnered Clement the honour of being named Prospector of the Year by the Ontario Prospectors Association.
About his find, a humble Clement said, "I didn't even know I did anything great when I found the diamonds. I was just looking for gold."
District Geologist Ann Wilson, who nominated Clement for the award, said: "Mickey was the first person to have discovered diamonds in the Wawa area that we could quantify - he willingly gave them to the government so we could do some work on them, prove or disprove that they were diamonds and confirm that they very likely came from Ontario."
Wilson said there were many stories at the turn of 19th century about diamonds having been found in Ontario, but none that could be substantiated.
"Mickey's efforts have led to the discovery of an entirely new type of diamond deposit that may prove to have global significance," she said, adding that the discovery has spawned interest in exploration for diamonds in unusual rocks elsewhere in the province, including Cobalt, Kirkland Lake and Marathon.
Unique
The Wawa diamonds are unique in that they are being discovered in rock that is 2.7 billion years old, while the oldest kimberlite is only 1.2 billion years old.
"There have never been diamonds reported in rocks as old as the Wawa rocks ever - they are in a yet-to-be identified rock type," said Wilson.
As a result of Clement's find, the district geologist said, "There has been over $20 million worth of diamond exploration that has come to the Wawa area that probably never would have happened."
According to Wilson, Clement is a classic prospector.
"Mickey is a perfect example of a prospector. He has complete faith in his properties, he has faith in his observations, and he uses the most low-tech methods."
The confirmation of the Clement diamonds initially led to a government-led survey for kimberlite indicator minerals in 1993.
Currie Rose Resources showed interest in the survey and optioned Clement's claims. The company did some drilling north of where the original discovery was made and intersected five kimberlite dikes, but no diamonds.
Other companies took notice after prospector Sandor Surmacz recovered one macro and five micro diamonds from bedrock on the side of the TransCanada Highway in 1995.
About a dozen companies and various prospectors have since explored the Wawa area. Among the most active junior mining companies are Pele Mountain Resources Inc., Spider Resources Inc., Band-Ore Resources Ltd., and Dianor Resources Inc. (Pele Mountain has an option agreement with Goldcorp Inc. and Spider Resources has a joint venture agreement with KWG Resources.)
Clement was unable to accept the award at the Ontario Exploration Geoscience Symposium in Toronto in December due to ill health. A small stroke last June has left the 75-year-old weak, but he still prospects whenever he gets a chance.
Clement, who was raised in a rural area east of Chapleau, said, "As soon as I could paddle a canoe, I was always panning for gold. It kind of gets in your blood after a while."
Clement moved to Wawa from Sudbury in the '50s, worked in several mines over the years, operated a sawmill and built log cabins when the prospecting didn't earn him enough to support his family.
He has prospected for base minerals in Quebec and Newfoundland, but most of his work has been in Ontario.
Techniques
As for prospecting techniques, Clement digs with a pick and shovel, pans and uses a dip needle to pick up magnetic anomalies.
"I still go with a grub hoe and strip moss off the top of rocks, scrape rusty zones and crevices, take samples, and then pan it. Anything that looks half decent, I send out for assays."
He hires a geologist when he needs help but he doesn't use a computer. The most modern piece of equipment he uses is a GPS system, which replaced his need to pace by foot.
Over the years, Clement said, he has optioned off claims about 35 times to junior companies and some larger ones like Noranda. "For some, I didn't get much money... some I got good payments.
"I don't know if I had much success, but I had a good time doing it."
Clement may never have found the "big one," but he has come close.
Before the Hemlo gold camp was discovered, he had nine claims in the area, but all of the assays had come back low. "I thought Wawa was way better so I dropped the claims. It just goes to show you that low assays could still mean that there's lots of ore there."
In 1952, Clement discovered a small gold orebody in Fortune's Bay, Newfoundland, and says the assays were the highest ever in North America at the time. "It turned out to be under concession with one of the big mining companies for 20 years so I couldn't do anything about it. I waited until the 20 years were up and I was going to go stake them."
When the claims came open, Clement lost his wood mill to a fire and had no insurance. By the time he could afford to stake the claims and invest some money in the property, the land had been turned into a caribou reserve.
"It's a dream of mine to go back and see if it could be a real mine or not," said Clement, still hoping the land will one day be reopened for prospecting.