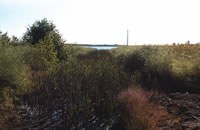 Three Northern Ontario mining companies will participate next year in a pilot project designed to find out if crops suitable for producing biodiesel fuel can be grown on mine tailings.
Two half-hectare plots will be cultivated on the CVRD Inco tailings in Sudbury, along with a one half-hectare plot on the Xstrata Nickel tailings in Sudbury and one half-hectare plot on the Goldcorp tailings in Timmins.
The plots will be spread a metre thick with paper sludge from St. Marys Paper Company in Sault Ste. Marie and Domtar in Espanola, and then seeded.
Corn, canola or soy will be grown on the plots, with the possibility of woody species like alder and willow being used in the future.
The project is being led by Natural Resources Canada in partnership with several branches of the federal and provincial government, Laurentian University and participating mining and forestry companies.
Bryan Tisch, a senior environmental scientist in the mine waste management program of Natural Resources Canada, is co-ordinating the project.
He spoke about the initiative Oct. 24 at the Mining and the Environment International Conference at Laurentian University in Sudbury.
Tisch said the origins of the project date back to 1999, when tailings on the Pronto Mine site in Elliot Lake were covered with paper mill sludge, seeded with grass and trees and returned to a natural state.
A similar project on a smaller scale was started around the same time at CVRD Inco in Sudbury.
The idea to generate crops on mine tailings to produce biodiesel fuel came about a few years ago when a biodiesel plant was supposed to be built in Sudbury. Plans for that plant have since fallen through, but the biodiesel crop project is still going ahead.
Environmentally friendly
Biodiesel is environmentally friendly diesel fuel that is produced using vegetable or meat oils or fats. All regulated and non-regulated emissions from vehicles fueled by biodiesel are 40 to 100 per cent lower than those from conventional diesel engines.
"It sort of closes the sustainability loop on mining," said Tisch. "You've extracted the valuable stuff from the ground through mining and you've generated waste. Now we're converting that waste to an area that can produce green energy."
It makes sense to use marginal land like mine tailings to grow crops for biodiesel fuel instead of prime agricultural land in southern Ontario that is sorely needed to grow food, he said.
There are 2,500 hectares of tailings in Sudbury that could potentially be used for this purpose, and around 2,000 hectares at one mine site in Timmins alone, he said.
The paper sludge will be spread on the tailings in January, when the ground is frozen and easier to work on with heavy equipment, said Tisch. They will be seeded in the spring and harvested at the end of the season.
Ground water
Instruments to monitor ground water on the sites will also be installed.
The researchers will be working with a Sudbury-area farmer, who will give advice about growing the crops. The farmer is also growing the same crops on a portion of his own land to see if the yield is any higher on traditional agricultural land.
"We have no reason to think that the crops won't grow. The paper sludge has done very, very well in supporting vegetation in Elliot Lake, but that is basically trees and grass," he said.
"Now we're producing an agricultural crop, so it is a bit of a different challenge. We've done some preliminary testing and it (paper sludge) seems to support crops."
That being said, it may be a little harder to grow crops in Timmins because the weather is colder there, said Tisch. A cold-resistant variety of corn developed by Agriculture and Agri-Food Canada may be planted to avoid such problems.
There will be a public information campaign to inform residents of the purpose of the project and address any concerns, he said.
The government official is also hoping that the spreading of paper sludge on the tailings will have another benefit besides allowing crops to be grown.
Paper sludge cuts off oxygen flow to the tailings underneath, which will prevent sulphides in the tailings from reacting with oxygen, or rusting. The paper sludge oxygen barrier may even cause sulphides that have already reacted with oxygen to convert back to their original form.
"That is basically the form they originally took in the rock. When they're in that form, as long as you keep them in these reducing conditions, it will greatly minimize leaching of metals," he said.
"In the longer term, we're hoping to greatly improve the quality of the water that seeps from the tailings, although mining companies do treat this water before it is released. It's going to take a long time because there's already some water there that has metals in it."
CVRD Inco grounds manager Mike Peters said he is optimistic the project will have many benefits, including the reduction of metal leaching from the tailings.
"This is a big problem from mine tailings if you have sulphur in your ore. If you can get a cover on the top and prevent oxygen from reaching the tailings, it can really reduce that. It might be the right way to go."