Science North Honorary Life Members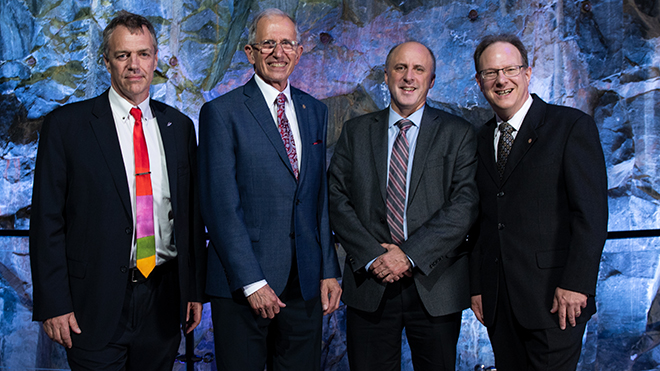 Science North has recognized Drs. Douglas Hallman and Amadeo Parissenti as Honorary Life Members. Dr. Parissenti was recognized for his research and his discovery of an innovative method that will help physicians measure the effectiveness of chemotherapy in shrinking cancer tumours.
Dr. Parissenti is a full professor in the Department of Chemistry and Biochemistry at Laurentian University and in the Division of Medical Sciences at the Northern Ontario School of Medicine, and a scientist at Health Sciences North Research Institute.
Dr. Hallman, Professor Emeritus of Physics at Laurentian, was honoured for his research on the Sudbury Neutrino Observatory Experiment (predecessor of the SNOLAB) and for his work with Science North in communicating science to the public.

Community Partnership Award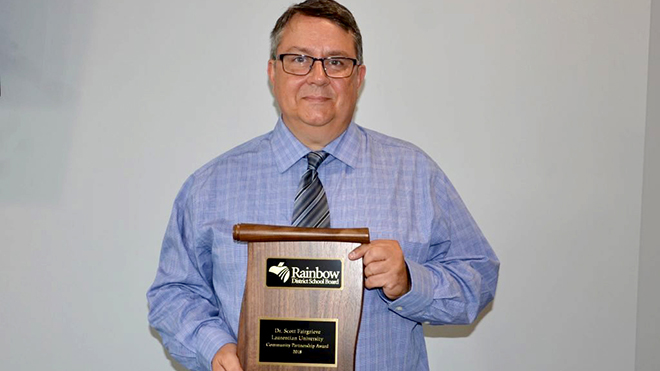 Dr. Scott Fairgrieve received a Community Partnership award from the Rainbow District School Board. Dr. Fairgrieve, a full professor in the Department of Forensic Science at Laurentian University, was recognized for his contribution to the Lockerby Composite School Forensic Science Program for which he has been an active contributor since its creation in 2008.
He also helped establish a formal partnership between the school and the University in 2009.
The hands-on program is credited for having inspired a number of students to pursue their studies in the field of forensic science.

PSI Foundation Graham Farquharson Knowledge Translation Fellowship
Dr. Nisha Nigil Haroon, Assistant Professor of Endocrinology at the Northern Ontario School of Medicine, was awarded the PSI Foundation Graham Farquharson Knowledge Translation Fellowship for her work on The Thyroid Nodule Epidemic: Choosing and Treating Wisely. This fellowship — valued at $150,000 per year for two years — is intended to protect a
new, promising clinician's research time, allowing the Fellow to undertake high impact translational research.
With the fellowship, Dr. Nigil Haroon will develop an interdisciplinary initiative to optimize the management of thyroid nodules and a novel diagnostic panel to better predict the malignant potential of indeterminate thyroid nodules.

Ontario Centres of Excellence's Mind to Market Award Shortlist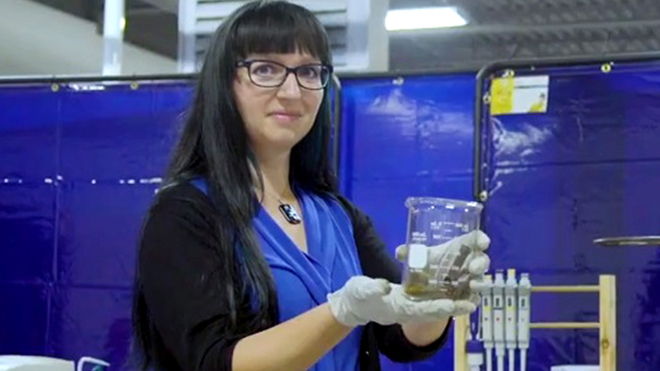 Dr. Nadia Mykytczuk and her research team were shortlisted for the Ontario Centres of Excellence's Mind to Market award.
The collaboration between BacTech Environmental, Dr. Mykytczuk's lab at Laurentian University, and Cambrian College Applied Research was one of three shortlisted projects nominated. They developed pilot scale bioreactors (tanks) to test how different bacteria degrade different gold-bearing materials.
The collaboration's ultimate goal is to make bioleaching a reality in Northern Canada, where millions of tonnes of tailings need treatment.
The success of this project could have an important environmental impact. Dr. Mykytczuk is the NOHFC Industrial Research Chair in Biomining, Bioremediation and Science Communication and an assistant professor in the School of the Environment.

Early Researcher Award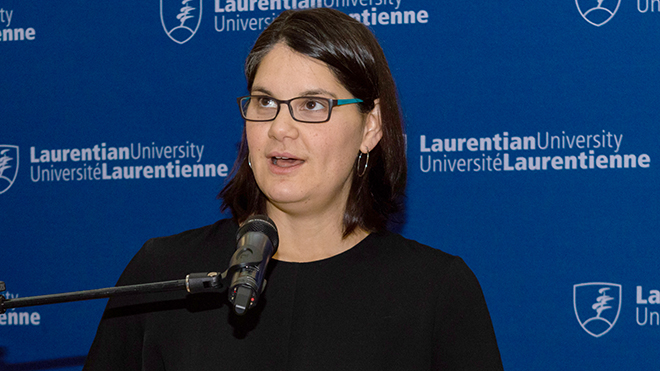 Dr. Jennifer Walker received an Early Researcher Award for her project entitled "Data as Medicine: Improving population-level health information in First Nations communities in Northern Ontario."
The award is an initiative of the Ministry of Economic Development, Job Creation and Trade to help accelerate the research activities of Ontario's leading career researchers.
Dr. Walker is the Canada Research Chair in Indigenous Health at Laurentian University, and a Core Scientist and Indigenous Health Research Lead at ICES.
The overarching goal of the project is to promote First Nations community wellbeing in Northern Ontario through community-driven use of health systems data to inform health services and policy; the research will leverage data from the newly established ICES North.
The project is being done in partnership with the emerging Northern Ontario Indigenous health partnership called Mamow Ahyamowen, meaning Everyone's Voices.
This partnership of nine Northern Ontario First Nations health organizations representing 73 First Nations communities, is using epidemiological methods to help communities access the health status data they need to inform local planning to improve health.

Honorary Provincial Education Award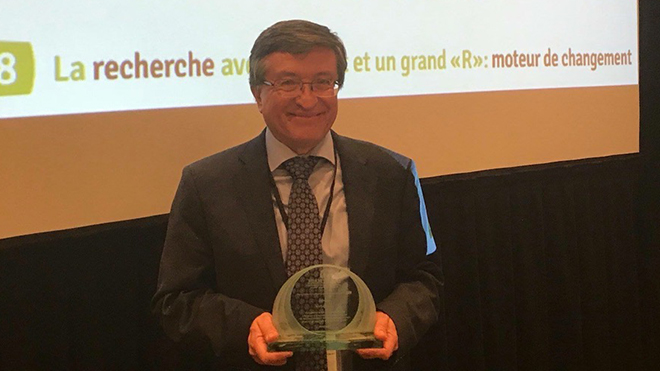 Dr. Luis Radford received an Honorary Provincial Education Award from the
Ministry of Education for his exceptional and sustained contribution to French-language education research in Ontario.
The award was presented to Dr. Radford at the 4th edition of the Forum for Synergy on Research in French-Language Education in Ontario in recognition of his contributions to the concepts, theories, policies, and practices of French-language education.
The Ministry also commended him for the quality of his innovative work in mathematics, his important contribution to the improvement of concepts and practices in education, and his engagement with the students and teachers who are the focus of his research.
Dr. Radford is a full professor at the École des sciences de l'éducation.

A seven-year $104 million research initiative
Canada's largest mineral exploration research project, prepares for a third field season across 13 transects in the Canadian Precambrian Shield totaling approximately 1,000 line km.
A seven-year $104 million research initiative, Metal Earth, led by the Mineral Exploration Research Centre (MERC) at Laurentian University has attracted researchers from around the world to uncover key characteristics and processes that are responsible for Earth's differential base and precious metal endowment.
The project aims to develop an understanding of these processes and to apply them to other jurisdictions with similar geologic environments, thus providing better area selection tools to reduce exploration risk.
Much of this research is focused on 13 research areas throughout the Superior Craton, which totals over 1,000 line km with the goal to produce large scale cross sections of greenstone belts that covers ancestral fault systems and volcanic complexes that have a differential metal endowment.
Further sub-projects include studying modern ocean environments, researching the generation and evolution of the sub-continental mantle, creating powerful area selection tools with isotopic mapping, to conducting geophysical data analyses using Seismic and Magnetotelluric (MT) Surveys.
The project continues to expand to include partner academic institutions including the University of Toronto, Université du Québec à Chicoutimi (UQAC), Université Laval, University of Maryland, Carnegie Institution for Science, University of Alberta and the University of Ottawa.
The skilled team of researchers consisting of 10 Research Associates, 9 Ph.D. Students and 22 MSc Students at Laurentian University provides training through summer field work to many additional undergraduate students.
Students and industry professionals can stay in touch by becoming a member of MERC or by applying for research associate or graduate research opportunities. For more information, visit merc.laurentian.ca.

These articles are republished from Laurentian University's Research Magazine The Key 2019.