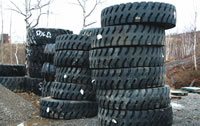 Following is an interview with Ken Gallant, co-owner of Royal Tire in Timmins. A Goodyear dealer, Royal Tire also has branches in Sudbury, Kirkland Lake, New Liskeard, Sault Ste. Marie, Wawa and Marathon. The company is one of the largest suppliers of tires to the mining industry in Canada.
SMSJ: The mining industry has been impacted by a shortage of off-the-road tires for several years now. What's the situation today? Is there still a shortage?
KG: For sure. There's still a shortage, but it's easing up to a certain degree and the reason it's easing up is because mining companies are getting a lot smarter. They realize that they need to have a good tire program in place and the old-school way is not the way it's going to be in the future. Manufacturers have increased production, but they're in a tough situation because they don't know how long the cycle is going to last. What happens if they invest $70 million or $700 million to increase production and the mining industry starts to go downhill in two years?  That's a big investment for a short-term period.
SMSJ: How is the industry getting around the shortage?
KG: We live and breathe the philosophy that a good customer is an aware customer, so we go out and train our customers on how to get the maximum life out of their tires. Communication is important. If there's going to be a shortage of a certain size of tire, we'll relate that to them. At the same time, our customers tell us about new machines they have coming in and plans for increased production. It's a team approach. We work with our customers and the manufacturer to arrange for allocation of tires.  They'll report the tonnage they moved the previous year, estimate the tonnage they're planning to move and come up with how many tires they're going to need.
SMSJ: Tell us about the training you do.
KG: We go to a customer site once per quarter and sit around a boardroom table with operators, supervisors and mechanics. If we don't have everybody knowing what our goals are and everyone buying into the system to get to the goals, we can't succeed.
SMSJ: What are some of the things you stress to improve tire life?
KG: Roadbed maintenance is huge. It used to be in days gone by that you'd have a fleet of LHDs and trucks and a couple of graders grading the haulage ways. If an LHD or truck driver called in sick, you'd take a guy off a grader and put him on an LHD. Those days are gone. If you have a grader or two working a haulage way 24x7, you're going to have pretty nice roads, but if you take a guy off that grader, you've got half the clean-up crew, but the same number of trucks hauling ore and the same amount of spillage.
SMSJ: What other factors impact on tire life?
KG: Tire inflation is huge. So is getting the right tire for the application. If you're   gonna haul a long way, you have to put the proper compounds in place. If you have too high a cut resistance, your heat dissipation is going to be very low, which leads to premature tire failure.
SMSJ: How do you go about advising a customer interested in controlling their tire costs?
KG: If you called me and asked me to come out and tell you how you can save some money, you won't see me for two days. I'll be in your scrap pile going through every tire you scrapped in the last three, four years.
SMSJ: What do you find?
KG: I find separations, low air pressure conditions, bead splitting, tires turning on the wheel. I find severe sidewall cutting, chipping and chunking, cuts in the crown, so many things.
SMSJ: How effective is electronic tire pressure monitoring?
KG: We use it and we're going to continue to use it, but we're really hoping that someone refines the technology. There are so many things that go wrong with these units. They have tried several different technologies. They went from chips in the casing to valve caps that measure the pressure of a tire, but there have been problems with all of them for one reason or another.  Having said that, every year, they come out with something better. Eventually, they'll get it right.
SMSJ: To what extent is nitrogen replacing air as an inflation agent?
KG: I'm a big believer in nitrogen. It's an inert gas. It won't spark and leakage is less of a problem because the molecules are larger. There are many benefits to nitrogen, but when you're talking about a fleet of 100 or 150 units, it gets very expensive.
SMSJ: Computerized tracking of tire history has become commonplace. Can you comment on the benefits of tire tracking?
KG: We do tire tracking for all of our customers. When they buy a tire, we brand it with a unique identification number and keep track of it. I can tell you what positions it has been on, what happened to it and how many hours it has achieved. If I see a lot of premature tire failures, I'll go in and ask them if they've changed what they're doing. If I see a lot of sidewall cuts, the computer tracking will pick that up and I'll go in and talk to the superintendent to see if there's a problem with the haulage ways and clean-up.
SMSJ: How prevalent is the use of retreads?
KG: Retreads are much more common today than they used to be. I have customers who would never run on a retread and now, because they're watching what they do and they're cutting the tires less, retreading is a very, very viable way to go. If you put on a retread, you don't need a new tire that you might not be able to get, plus a retread is about 65 per cent of the price of a new tire.
The problem is that when I tell my customers that retreads are the way to go, so is everybody else. That means casings could be in short supply.
SMSJ: To what extent has tire life improved?
KG: Eight or nine years ago, our customers would get 3,000 hours out of a tire. Today, they're getting double that with room for still more improvement. It comes from knowing what air pressure will do and understanding the consequences of severe underfoot, poor roadbed maintenance and misloading trucks. It isn't that complicated. I tell the guys in the meetings that I'm not a rocket scientist or a Rhodes scholar. You just have to have a little bit of common sense.