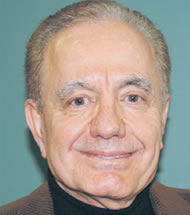 The recent signing of an agreement with China's Jiangsu Polytechnic University (JPU) will significantly boost enrolment at Laurentian University's School of Engineering.
Fifty engineering students from JPU will arrive in Sudbury in September to complete the final two years of their undergraduate programs in Chemical and Mechanical Engineering. Another 50 students will join them in September 2008, boosting the number of JPU students in year two of the agreement to 100.
The relationship with JPU was initiated through Dr. Zhibin Ye, a Laurentian University engineering professor with ties to the Chinese university. Dr. Ye and School of Engineering Director Dr. Anis Farrah signed a draft agreement in November 2006 during a visit to China. The arrangement was finalized in April when JPU officials visited Sudbury.
"The agreement provides for up to 25 students per year, per program," said Farrah. "The initial agreement is for two programs – Chemical and Mechanical Engineering."
The students will do their first two years at JPU and complete their final two years of the program at Laurentian. Degrees will be granted by both institutions.
Some curriculum changes at JPU will be required to ensure compliance with the Canadian Engineering Accreditation Board.
The students will receive extra instruction in English prior to their arrival in Canada to achieve a satisfactory level of language competence. Laurentian's School of Engineering offers undergraduate and graduate programs in Chemical, Mechanical and Mining Engineering and currently has an enrolment of 155 students, including 16 PhD and 35 Masters students. Masters and PhD programs are offered in each of the three engineering disciplines.
The agreement with JPU is one of several developments fueling enrolment at Laurentian's School of Engineering. The replacement of the university's long-standing two-year Mechanical Engineering offering with a full, four-year undergraduate degree program is also expected to attract more students.
Meanwhile, the Mining Engineering program has rebounded from several years of sluggish enrolment.
"This year, we had 20 students in first year Mining Engineering and next year also looks very healthy," said Farrah.
Students with a minimum 70 per cent average may opt for a five-year co-op program that includes three work terms, including two eight-month assignments and one for four months. Not only are the students paid during their work terms, but they also gain valuable experience and maturity from being exposed to industry.
The new undergraduate program in Mechanical Engineering offers options in automation and mechatronics. The latter, explained Farrah, is a new discipline combining mechanical and electrical engineering, electronics and computer technology.
The School's four-year undergraduate Chemical Engineering program was introduced last year, replacing a two-year offering and a four-year Extractive Metallurgy program.
"Our enrolment in the Extractive Metallurgy program was very low, so we converted it to a Chemical Engineering program and kept Metallurgy as an option," said Farrah. Students may also choose to pursue an option in Environmental Engineering.
Members of the School's recently reconstituted Industrial Advisory Committee have expressed concern about the dwindling enrolment in Metallurgy programs at Laurentian and other universities.
"They're very concerned because they still need metallurgy students, so we're hoping to work with industry to sponsor some targeted scholarships to help attract students," said Farrah.
Holding on to graduate students is another challenge. Faced with offers of $60,000 salaries and signing bonuses, some graduate students are being tempted to join the workforce before completing their degrees. The competition from industry coincides with a dramatic increase in research funding at Laurentian and a need to attract graduate students to work on research projects.
Graduate students who think they can join the workforce and continue their studies on a part-time basis are making a mistake, said Farrah.
"A student who leaves us to go to industry is going to take a long time to finish their degree," he said. "It can also create a strain on the family." With the students from JPU in China, enrolment in the School of Engineering is expected to surpass 200 beginning in September and 250 in 2008. n
www.laurentian.ca