According to researcher Nadia Mykytczuk, Sudbury is ready to play a leading part in the global story about electric vehicles (EV).
As auto manufacturers lock up supply chains, and countries position themselves as viable trading partners, the Nickel City has the resources and necessary tools to transition into a hub for EV technology.
Not to mention the experience and ingenuity of its workforce.
"Globally, the demand for battery minerals is really going to expand," Mykytczuk said. "And that could spell disaster if we're not careful in how we extract those minerals in an environmentally sustainable way.
"And how we meet those demands is going to really single out companies and regions that are extracting and providing battery minerals without a massive environmental footprint."
Mykytczuk, interim president and CEO of Mining Innovation Rehabilitation and Applied Research Corporation (MIRARCO), said Sudbury already has an "incredible" track record for innovation.
That includes its decades-long regreening project, which transformed Sudbury's barren, moon-like landscape into a much greener environment, and the industrial push to meet emissions reductions in the 1970s.
Mykytczuk herself has been at the cutting edge of innovation for her work in mine waste microbiology — her work has been gaining interest in mining circles for her collection of organisms cultivated and trained to eat through sulphur and iron in rock, then releasing those valuable minerals in a controlled, lab setting.
If applied in the Sudbury region alone, with its toxic tailings near mills and mines, Mykytczuk said the process could free up $8-$10 billion of critical minerals.
It's already been tested at sites in South America, Mykytczuk said, referencing her work with Toronto-based BacTech and their efforts to leach arsenic from gold deposits in Ecuador.
Her research comes at a pivotal time, as the industry scours the globe looking for places to source these minerals.
"You see the projections of how many millions of tonnes of nickel and copper and cobalt and lithium are going to be needed to make those [electric vehicle] batteries, and we simply don't have that supply, not even in the mines that we have right now," Mykytczuk said.
"So this is a massive shift."
Now, Mykytczuk said, the next generation of innovators and entrepreneurs is just waiting to make an impression.
"From my perspective, we're sitting in this hotbed of ideas," Mykytczuk said. "We have mine service sector companies and a lot of startups, all linked and sort of working around this massive mining camp.
"So it's a really great area to develop ideas that can help advance mining into the future."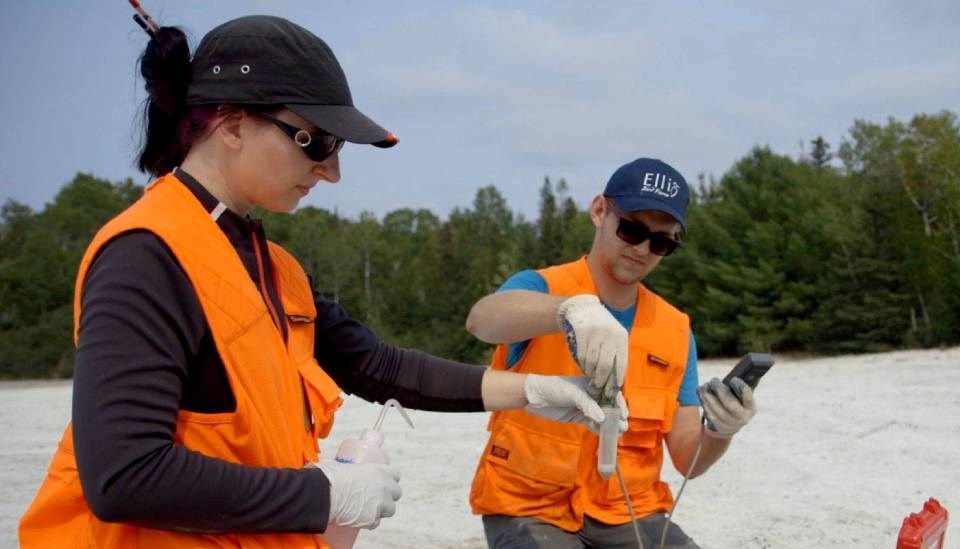 But the road wasn't exactly smooth for Mykytczuk, recently.
Despite her credentials and work in research, Mykytczuk was one of the professors laid off by Laurentian University (LU) when the school announced its insolvency in 2021.
In an opinion piece published on Sudbury.com, Mykytczuk said it was time for a new approach, and that overcoming devastation is something Sudbury is well known for.
"This legacy is so deeply rooted in who we are and we should look to this model again as we sow the seeds for what's next for LU," Mykytczuk said.
"Because the future of this institution — and what we ultimately leave behind for the next generations — is bigger than all of us."
Undeterred by what was happening at Laurentian, Mykytczuk signed on as the CEO of MIRARCO, the Sudbury-based mining innovation centre. This allowed her to continue her research into biowaste while still working alongside graduate students.
Mykytczuk was also able to write a feasibility study outlining the benefits of building a $17.3-million, 45,000-square-foot centre for mine waste biotechnology, touting it as an "essential piece of the puzzle" in the EV battery production game.
"Typically new ideas, solutions, technologies get stuck on the lab bench," she said.
"And if we want to advance, scale up and commercialize technologies that can be used at an industrial scale, we actually need the facility to be able to do that."
Plans for the centre would also fit well with government initiatives, both in the mining sector and the push to establish EV technology domestically.
In March, the provincial government published its critical minerals strategy, promising to "forge Ontario into an unbreakable link in strategic global supply chains."
The federal government also kicked in $4 billion in the 2022 budget to help bolster the industry, saying that a focus on developing the supply chain would be a "generational opportunity" for the country.
As for capitalizing on the momentum that EVs have generated recently, Mykytczuk said the centre's function would be as a "piloting, scaling-up, derisking" facility to get innovative ideas into industry hands, sooner.
It's also a "win-win" for Sudbury, Mykytczuk said, as the centre should help find different ways of not only supplying producers with much-needed resources for batteries by extracting mine wastes at surface, but also help the industry move towards zero-footprint, zero-impact mining.
"We have this incredible mining history and environmental restoration story," Mykytczuk said. "We can really lead the way in saying, OK, we know that we're going to see an increase in mining, we're going to do it right.'
"We've learned our lessons the hard way, but can also provide a model of how to do things better."