A company advancing a large nickel-cobalt project in Timmins is already planning its applications for a new provincial fund.
Today, Minister of Mines and Timmins MPP George Pirie was at Northern College to launch the Critical Minerals Innovation Fund. The two-year, $5-million initiative is "to support research, development and commercialization of technologies, processes and solutions for critical minerals," said Pirie.
The fund is open to applicants supporting investments in one of the key priorities — battery supply chain, deep exploration and mining, recovery of minerals, and other innovative projects that support the critical minerals sector. It offers up to $500,000 to cover 50 per cent of an eligible project's cost. It's open to companies as well as private-sector partnerships between companies and Indigenous communities, academia and not-for-profit organizations.
"This pilot program is the direct result of conversations we've had with industry leaders," said Pirie.
For Canada Nickel, the program offers direct benefits and "massive indirect benefits," said CEO Mark Selby after the announcement.
The company's Crawford Nickel Project located 40 kilometres of Timmins is slated to be a zero-emission operation.
"Based on what we have now we think we'll be able to generate a million tons of CO2 credits per year, which would make us among the largest carbon capture facilities in the world.
"There's obviously a lot of engineering work and additional innovation that needs to be done to be able to make that a reality, so this kind of fund is ideally suited to that," said Selby, noting it could also help with their work looking at additional ways of processing material.
"But the big, indirect benefit is with investors out there, because this is a billion-dollar project that we have to go raise that money. The willingness of the government to put real risk capital at work to help advance this industry is a massive signal that Ontario's open for business and Ontario really wants mining and critical minerals to happen here."
When it comes to funding, he said new technology "that doesn't always have that direct linear payback" is sometimes the hardest money to secure. Having an initial investment, he said, helps because one piece of money often leads to other funding following.
Canada Nickel's local project is going very well, according to Selby.
He said that people don't realize the scale of the battery and electric vehicle (EV) transition underway.
"We're looking at five and 10 times growth in the coming decade in terms of the materials that are required, and Timmins is ideally positioned and our project is ideally positioned to deliver very large volumes of that material 'cause nickel is found in very few places around the world," he said.
At the Crawford Project, the company's hoping to get permits mid-2025 and be in production by the end of 2027.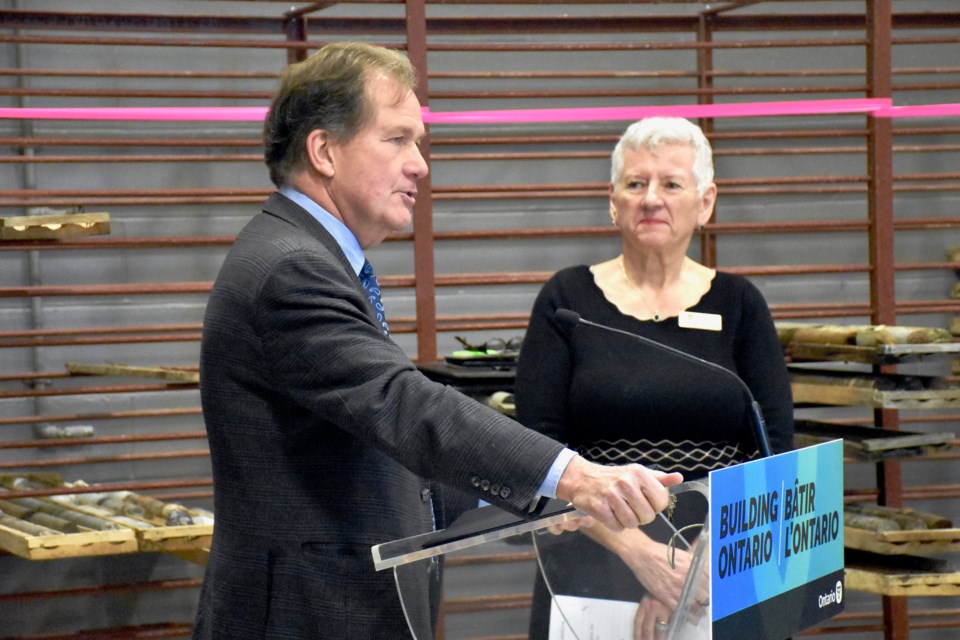 Mines Minister George Pirie announces the $5-million fund, while Northern College president Audrey Penner looks on.
For people interested in applying to the new fund, Pirie said they are the face of change, transformation and progress.
"Your groundbreaking technologies will strengthen Ontario's advantage and support economic growth. You are all part of an industry that is leading the charge towards a sustainable future. The mining industry will continue to serve the current generation of Ontario without compromising the future of the next generation — the definition of sustainable development," he said.
The full details on the Critical Minerals Innovation Fund, including links to apply, are available here.
— TimminsToday