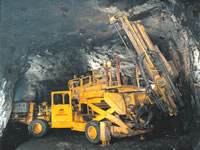 Providing product support is top priority for MacLean Engineering and Marketing Co. Ltd.
"We believe that to be successful.you have to know how you will support the equipment you sell," said MacLean president John Robbins.
It is this focus that has more than tripled the company's employee base in Sudbury in just one year.
The manufacturer of mobile mining equipment was founded 33 years ago in Collingwood, Ontario, where former Inco mining engineer Don MacLean drew on his experience and expertise to begin his own business. MacLean owned an apple orchard in the Collingwood area and wanted to keep his businesses in one location.
In December 2005, the 175-employee company moved its sales, customer service and distribution centre to a spacious 25,000-sq.ft. operation in Sudbury, where more than 50 employees today provide after-market product support.
Splitting the manufacturing and engineering component from sales and distribution, and moving the latter north seemed a natural step for the company.
"From a customer point of view, our headquarters are here in Sudbury," Robbins said. "Our objective is to have a bigger presence in Sudbury," home of mining giants CVRD Inco and Xstrata Nickel, and Canada's mining supply Mecca.
It is all part of a strategic move as the company aims to become a preferred vendor of high-end mining equipment, providing efficient and reliable support for its clients, locally, nationally and internationally.
Currently, Robbins says the company's export sales account for between 10 and 15 per cent of its business, with the remainder in North America. However, exports are on the rise. The company has 12 people in South Africa and is in the process of setting up an office in Chile.
"We have found that we are more successful internationally where we have our own infrastructure in place," Robbins said.
The company also has a branch in Thompson, Manitoba.
Bolters
MacLean Engineering's primary product is its mechanized bolting system or scissor bolter, which Robbins says has captured between 80 and 90 per cent of the ground support market in Canadian mines.
Contributing to the company's expansion have been some other products such as its secondary breaking systems and utility vehicle line. The secondary breaking equipment breaks up oversized rock fragments that remain after a blast or when oversized boulders are hung up above the draw point brow of a block cave mine.
Known as blockholers, the basic model tackles boulders that rest on the ground by drilling holes into which explosives are loaded to break the rock. When equipped with the patented Ro-Bust hydrofracturing technology, the blockholer works on oversize boulders on the ground in a similar fashion, but the drilled hole is automatically loaded with a non-explosive canister, which expands to break the rock with a high pressure water shot. Blockholers with a longer reach are used on oversize material trapped above the brow by automatically drilling holes, pumping bulk emulsion and inserting a detonator.
Demand for the basic blockholer has decreased somewhat due to improved drilling and blasting practices in North American mines. However, Robbins says the company has developed a growing niche market for the equipment in block cave mines in South Africa, Chile and Australia.
Utility vehicles
In the last several years, the company has developed a high-end utility vehicle line designed to offer improved service and reliability. By incorporating higher-value components as well as ergonomic design and safety features, MacLean Engineering is attempting to differentiate its products in a competitive market.
"We have strength as a company building carriers to support the secondary breaking product line and bolters, and we're using that knowledge to build utility vehicles as well," Robbins said. "We have secured a fair bit of the Canadian market."
The company's flexible, solution-oriented engineering services have contributed to its competitiveness. Its modest size has allowed MacLean to engineer and implement solutions for its customers with a short turn-around time. By adapting vehicles to suit specific requests, it is able to maintain strong customer relationships.
As part of MacLean's new strategy in Sudbury, it will also buy back or upgrade equipment for existing customers and rebuild it to OEM (original equipment manufacturer) standards.
"Our rebuilds are completely renewed, re-engineered pieces of equipment conforming to all the latest standards," Robbins said. "It is just like a new piece of equipment."
Its exchange program is an innovative service allowing customers to replace a component without impacting on equipment availability.
In some areas, field service technicians are assigned to specific mines, increasing service, reliability and familiarity with the equipment. The practice is in its infancy, but it is working exceedingly well, said Robbins.
At a time when skilled people are at a premium, MacLean's is investing in its employees and providing in-house skill upgrading. Getting new employees qualified as quickly as possible is a challenge, but Robbins sees it as an investment in the future of the company and a requirement to compete on a global level.
"The best vendors of tomorrow will be the ones that are very strong in the support of their customers."