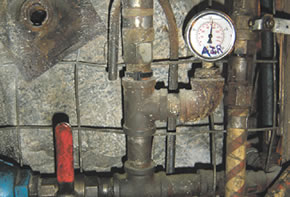 Getting miners to report compressed air leaks is an easy way for mining companies to reduce energy costs, according to study commissioned by the Ontario Mining Association (OMA).
When workers notice a leaky air pipe, they can fill out a paper "leak tag," stick the tag to the pipe, and tear off a portion to bring to the maintenance department.
The system helps mines identify where leaks are and prioritize their repair based on severity.
Implementing simple measures like the leak tag system is important because a lot of money is spent pumping the compressed air used to power equipment underground, said Cheryl Brownlee, the OMA's manager of stakeholder relations.
Unfortunately, as things are right now, up to 50 per cent of compressed air leaks away before it can be used.
Ontario's mining industry spends more than $500 million a year on energy, and compressed air accounts for between 20 and 40 per cent of it.
"Compressed air is actually one of the largest electricity costs in underground mines. It's also known to be a really inefficient system in terms of both the compressors and the leaks," said Brownlee.
"The key goal of this project was to develop a sustainable system that would allow companies to see an ongoing benefit, both in reduction of energy use and savings to their hydro bills."
Three mines
The study, released in early August, took about a year to complete. Three mines participated in the project - FNX's McCreedy Mine in Sudbury, CVRD Inco's South Mine and the Williams Mine in Hemlo (located 600 km west of Sudbury).
Both cash and in-kind funding for the study was provided by the OMA, the Ontario Power Authority and the three participating mines.
The results of the study are available to OMA members on the organization's website.
The association is hosting a workshop based on the study's findings Oct. 3 and 4 at the Shania Twain Centre in Timmins. The cost of participating in the workshop is $50.
The agenda for the workshop includes new technologies and approaches towards conservation and efficiency, government policies and grant opportunities and a detailed presentation on the compressed air study.
The OMA contracted out the administration of the project to Ivor da Cunha of LeapFrog Energy Technologies Inc.
"Based on where they were at in terms of their resources and what we wanted to achieve, we came up with a plan that was negotiated at each site. Those plans came to fruition by October or November of last year."
Several other measures besides the leak tag system were implemented.
Because underground mines are extremely noisy, da Cunha used a handheld ultrasonic leak detector to "hear" and zero in on air leaks. Once the air leaks were found and reported, they were entered into a database.
The mines also installed compressed air flow meters on each level to find leaks. In some cases, the meters showed mine levels no longer in use were still using compressed air because of leaks.
The flow meters also showed when equipment powered by compressed air was being left on at the end of shifts.
One of the mines installed timers on the equipment so it automatically shuts off after being run for a certain amount of time. This eliminates the possibility of compressed air being unintentionally wasted.
While da Cunha focused on reducing compressed air leaks in this study, he said there are other ways mining companies can reduce their energy consumption.
"Compressed air is really a low-hanging fruit that mines can address very easily," he said.
www.oma.on.ca
www.powerauthority.on.ca