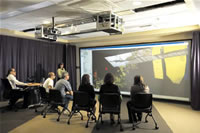 A new virtual reality (VR) studio in Timmins is the fourth facility of its kind in Northern Ontario. Part of a projected region-wide Northern Advanced Visualization Network (NAVNet), the Timmins VR studio will allow mining companies to view their geological data in a 3-D immersive environment, locate drill targets, understand orebodies, facilitate mine planning and promote mining properties to investors.
Funded by the Northern Ontario Heritage Fund Corporation, the Timmins studio is part of a strategy to promote the use of advanced visualization technology by making it more accessible to prospectors and junior mining companies across the region.
Other VR facilities in Northern Ontario are located in Sudbury, Thunder Bay and Red Lake. Widely used in the oil and gas industry, the application of 3-D visualization to the mining industry was championed by the Sudbury-based Mining Innovation, Rehabilitation and Applied Research Corporation (MIRARCO), which set up the first studio in Sudbury. It sold a VR studio to Goldcorp's Red Lake Mine in northwestern Ontario several years ago and recently completed a sale to the Department of Natural Resources and Civil Engineering at Northeastern University in Shenyang, China.
The Timmins studio is located in the city's library, has a screen measuring 20 feet wide by six feet high and accommodates 40 people. Over the next few months, data collected as part of the recent Discover Abitibi geoscience study will be fed into the system for public viewing. Mining companies will also be able to integrate their own data to better understand their exploration targets.
Queenston Mining Inc., a junior miner with extensive holdings in the Kirkland Lake camp, was an early adopter of 3-D visualization technology.
"After working with MIRARCO on initial data integration and modeling of our properties, we realized that this is the way of the future," said Queenston president and CEO Charles Paige.
"3-D modeling helps us define and establish the continuity of mineralization…it's a powerful and convincing tool to display our projects to major producers and investors," he added.
Nuinsco Resources Inc., another convert to 3-D visualization, has used the technology to assess the extent of its Minago nickel property in northern Manitoba.
It's a "great tool to help visualize the drill holes and ore zones," said Nuinsco president Brian Robertson. "You start to recognize the real shape and size of a deposit as more drill intercepts are incorporated into the model and viewed from different perspectives. This certainly changes your thinking about a project..."
The Timmins facility will also be available for science fairs and competitions in the community to "tap into the gaming generation" and entice Timmins youth into pursuing an academic path in science and engineering.
Library Director Brian Nimeroski said the studio could potentially be used for urban planning, building design and construction or to display a virtual cadaver for use in the Nursing program at Northern College.
The Thunder Bay VR studio is located at Lakehead University, where it is used for product visualization and simulation, molecular modeling, mapping and medical imaging.
To date, only the Sudbury and Timmins studios are available for commercial use by junior mining companies.