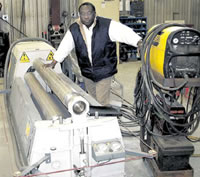 Smelting and refining environments require equipment and products capable of withstanding the punishing conditions of extreme heat, pressure, and the corrosion that is likely to occur in locations with high acidic content. By responding to the need for specialty equipment capable of withstanding the rigours of such conditions, the Sudbury based company, Specialty Alloys and Stainless Steel Ltd., (SAS) has experienced impressive growth, says company president and CEO, Doumer Horace.
Founded by Horace and a partner in 2003, SAS recently expanded its operations from a modest 4,000-square foot facility to an 11,000-square foot building in Sudbury's Walden Industrial Park.
SAS manufactures specialty products and structures from alloy-enriched aluminum, stainless steel and nickel-based materials sourced from suppliers in the U.S. The more resilient materials are shipped to the SAS plant, where Horace and his team of five workers shape, mould and assemble value added products.
Alloy-based products for harsh environments maximize operational efficiencies as well as the bottom line. "Our products do not behave like normal materials under harsh conditions. Normal stainless steel materials, for example, will melt and disintegrate, causing repeated shutdowns. So we provide the appropriate material for these applications," explained Horace.
SAS fabricates a wide variety of products for the smelting, milling and refining of minerals. Soot blowers, drill parts and cones tailored to fit attachments on pressure vessels are some examples of the products manufactured. Various alloy grades are chosen, depending on the type of equipment required and the particular environment in which it is used. But these are decisions determined by SAS customers.
Horace's customer base is principally in the mining industry, accounting for 65 per cent of sales, but significant revenue is also generated from the communications and transportation sectors. Stainless steel brackets and anti-corrosive enclosures for complex telecommunications infrastructure are also manufactured on site.
Twenty years of experience in the manufacturing industry convinced Horace to delve into the uncertain waters of self-employment for the first time. "A friend suggested that we take our expertise into that area and try to service the mining industry," he said.
The decision to plunge into the mining supply and service sector was a timely one, evidenced by SAS's swift growth trajectory. And Sudbury, known internationally for its mining excellence, was the logical place for Horace to locate. After working in the manufacturing industry for two decades, he had a long list of business associates he could contact.
"I knew I could call on a lot of people I met over those 20 years. Having credibility in the industry helped a great deal."

Challenges
But the stability of full-time employment could not have prepared the newly minted businessman for the looming challenges of an industry overheated by the voracious global demand for minerals. Keeping employees is a major barrier to overcome, he admits.
"Retaining employees in a robust economy is challenging. If there is a greater demand for employees than there is supply, there will be problems holding on to them. They can leave a job today and find another one tomorrow."
The challenge is especially acute with skilled welders, fabricators and fitters who are able to find work with the local mining giants CVRD Inco and Xstrata Nickel, companies with sterling benefits packages that far outweigh those of many smaller companies in the supply and services sector.
Recruiting suitable employees is another challenge. "We can train workers for our specific requirements," Horace noted, "but they must at least have a basic background. The human material needs to be there before it can be moulded."
Attention to customer service is what sets SAS apart from the competition, Horace said. "Our main focus is service. We have to ensure our customers are happy, that we deliver products on time at the specified cost, and according to the specifications agreed upon."
Skilled workers and an inventory of raw material ensure production levels are met.
The facility is equipped with an overhead crane and a plate roller, among other equipment. Flat sheets of aluminum and stainless steel plates are fed through industrial grade cylinders and formed into desired configurations – often cone-shaped devices that will be attached to connecting flanges.
SAS directly services customers in Canada. Its products are found in othermining jurisdictions, but Horace sells only to purchasing agents who re-sell the products elsewhere.
For now, servicing the needs of a local industry, lauded as the mining capital of the world, is where SAS will continue to channel its energies. "We will continue to satisfy our existing customers by doing what we do best," he said.