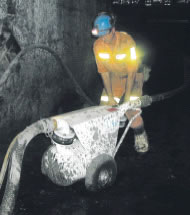 The newly designed Supavac solids transfer pump is proving its worth in Northern Ontario mines.
CVRD Inco's Mark Moffatt can attest to its effectiveness. As a front line planner for Division 2 at Sudbury's South Mine, he needed a way to "rescue" a sump pump on the 4130 level that had been running for about one year, but no longer to capacity due to slime build-up from mine waste water. Due to lack of space, Moffat was unable to use a load-haul-dump machine to facilitate cleaning. Using the Supavac SV60, he was able to remove 40 cubic metres of material over a 12-hour shift. Set-up time was one hour.
"We discharged it about 150 feet into a remuck area," Moffatt said. "It was really simple, and it did what I wanted it to do."
Normally, a contractor would have come in and used a large pump with a compressor to remove the sludge, requiring about a six-hour set-up time. Moffatt was pleased with the results, saving a significant amount of money, manpower and time. He said he would definitely use the pump in other applications.
This Australian-made pump is unlike standard industry pumps because it works on the venturi priming system where air travels through a narrowing tube, creating a vacuum. It is able to automatically alternate between functioning as a pump and a vacuum.
The system requires no electricity and operates as a shuttle system on compressed air (externally provided), alternately discharging and then loading a wide range of materials from sludge and slurry, to dry substances. As soon as the pump starts, it automatically reverts to a default discharge, emptying the tank. Then it goes into the fill-suction cycle, said Bob Spicer, president of Supavac Canada Inc., explaining that the machine cycles back and forth, controlled by a manually set timer.
There are no rotating parts like an impeller, bearings or seals typically found on standard pumps, which may break down over time. Supavac functions as an automatic self-priming pump without the maintenance, according to Spicer.
What makes the pump unique is that it can automatically operate as a high-lift vacuum up to 75 ft., where standard pumps only perform up to 25 ft. Spicer explained that self-priming pumps create a high vacuum, but their cubic feet per volume output is low, whereas, the Supavac's is high. "The three-inch model produces up to 160 cfm," he said, making its versatility attractive to contractors because the system draws liquids and wet slimes like a pump but can also perform like a vacuum and move dry, granular material. Smaller models can be wheeled into tight spots that larger equipment cannot access.
The seven-pump line varies in size and capacity, determining performance levels. Within the line, the suction head (liquid flow) can pump from 25 ft to 28 ft. Horizontal recovery ranges from 180 ft to 200ft and horizontal discharge ranges from 1,600 ft to 2,900 ft. The volume transfer rate is from12 m3/h (cubic metres per hour) to 50 m3/h.
Presently, the three-inch Guzzla SV60 and SV60V are out on the market, although Spicer said he intends to bring in more models, such as the SV110V and the SV300V.
The Supavac can be used for all types of industrial applications to transfer debris, thick slimes, slurries, mine tailings, muck, and wet and dry spills, as well as corrosive and abrasive slurries, hazardous waste and drilling mud.
An optional 316 stainless steel model for corrosive material is available. The Canadian models are manufactured to comply with CRN and ASME 'U' stamp pressure vessel regulations. ITT Flygt distributes the Supavac transfer pump in Sudbury.
www.supavac.com