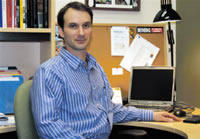 Mining behemoth Rio Tinto, the second largest mining company in the world, doesn't have a stake in the mineral wealth of the Sudbury Basin, but it's mining the community's rich vein of intellectual resources.
The British and Australian-based mining group is a member of the Sudbury-based Deep Mining Research Consortium and is supporting several other locally based research projects because of the knowledge base in the community, said Fred Delabbio, Manager of Mining Technology for the company's Operational and Technical Excellence group.
Delabbio himself is a product of Sudbury's brain trust. His grandfather was a bricklayer at the Falconbridge smelter and his father worked as an engineer, geologist and mining equipment salesman in the city.
Fred studied Mechanical Engineering at Laurentian University, completed his degree at Queens University in Kingston, Ontario, worked for Hatch Associates from 1992 to 1994 and went on to do a PhD in Mechanical Engineering at the University of Queensland in Australia. He returned to Sudbury in 1999 as manager of a new mining technology consulting group at Hatch and joined Rio Tinto in January 2006.
Delabbio's role is to focus on so-called step change - revolutionary new technology to address the challenges the company will face in the future.
"Rio Tinto is focused on change for a number of reasons," said Delabbio. "Most of our surface copper deposits are depleting, so we are going to have to go underground."
The challenge will be to develop mining methods and technology to operate cost-effectively and minimize waste, tailings, energy and risk to miners.

Block caves
Block cave mining is one method that seems headed for wider use.
"There are a half dozen block caves in the world now, but there are a lot being proposed, mostly by copper and diamond producers," said Delabbio.
Codelco, Phelps Dodge and BHP Billiton have block cave operations.
Rio Tinto has two block cave mines, including Palabora in South Africa and Northparkes in Australia.
A bulk mining method requiring minimal drilling and blasting, block caves allow large blocks of ore to break, or cave, under its own weight through draw bells, or funnels, excavated above an underground extraction level. Unsupported voids excavated above the draw bells collapse from the stress and the material begins to drop.
"Then your cave is working. And it will propagate," explained Delablio. "It will keep on dropping material into the draw bells. Then it's just a matter of pulling out your material. It's a great mining method for low-grade deposits because you don't have any fill required, and you don't have any blasting."
Block caves are also well suited for automation because loading and hauling equipment can operate unimpeded by other equipment.
"At a nickel operation, you have jumbos, lots of people and a very complex system which makes it very difficult for automation, " said Delabbio.
"Teleoperation has applications in all operations, but the question is how to make the most of the technology. You can't always take new technology and put it in something existing without changing the mine layout and how you do the business, because by doing that, you're short-changing the technology. It's limited by the system around it, so it's a huge challenge to introduce teleoperation into a mine layout that isn't conducive to it. "

Rapid development
On the subject of rapid development, Delabbio claims that drifts can be driven faster than what is perceived as the norm, even in hard rock.
"It's not a technology issue. It's a logistical issue. Mines have certain limitations, whether it's material handling, ventilation or whatever, so in some situations, you're not going to be able to go any faster. In other situations, you can, if you are willing to change the culture and the work practices to enable the technology to make the difference."
Drift size is another issue.
"If you want to go fast, you may have to go either bigger or smaller. It comes down to what your system can support. In an old mine, you don't have a lot of excess capacity for muck removal, which will limit your drift advance."
Delabbio's advice: "Build what you need for the purpose, not what is convenient, or what has been done in the past."
"I take my hat off to the people at Xstrata Nickel for opening up the debate as to how to develop (Nickel Rim South). That was a breath of fresh air," he remarked.
Another example of step change is the use of advanced communication systems to automatically transmit production data and track people and assets.
"It enables everyone to do their job better instead of someone looking around for a piece of equipment because they don't know where it is."
Rio Tinto is making a significant commitment to R&D because it understands that economies of scale have reached their limit, he said.
"We're not going to keep having bigger trucks, so we need to mine smarter. We need to apply technology to our operations. From the CEO all the way down through the organization, there is an understanding that technology is going to be an enabler for us."

In situ leaching
In situ leaching may be an option for potash and uranium and possibly other minerals in the future, said Delabbio.
"We have to start thinking about the energy we use breaking rock when only one per cent is the good stuff. There's a lot of material we're moving for that one per cent. How can we get that one per cent without doing all that material movement? That's the question. The expectation of society is they don't want to see environmental waste and risk to the environment, so we have to lead the way in terms of minimizing our impact."
Aside from its commitment to developing internal R&D resources, Rio Tinto is a big supporter of external R&D initiatives and research partnerships.
"We are big supporters of the Centre of Excellence in Mining Innovation, the Deep Mining Research Consortium and MIRARCO, so we're doing a lot of research in Sudbury," said Delabbio. "Hopefully, CEMI will grow because North America needs an entity like CEMI. Right now, there isn't really a centre for mining research in North America, whereas there is one in Australia."
Canada's federal government has been slow to show its support and stakeholders in the mining industry have been too preoccupied with mergers and acquisitions to present their case in Ottawa, he said.
According to Delabbio, there's a great pool of knowledge and resources in Sudbury and a growing focus by local suppliers on the global mining market, but there is still more work to do to fully realize the region's potential.
Delabbio has carried out his duties as Rio Tinto's manager of mining technology from a small office at Hatch Associates' Sudbury branch since January 2006, but later this year, he and his Australian-born wife will relocate to Brisbane.
He'll no doubt continue to serve as an important link between Rio Tinto and Sudbury's rich vein of mining know-how.