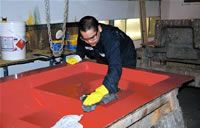 A little ingenuity and entrepreneurial zeal can go a long way. In the case of Sudbury's Rezplast Manufacturing Ltd., the result is a recent move to a larger plant, exports to the U.S. and Latin America and a significant increase in the company's workforce.
In January 2005, the fiberglass and plastics manufacturer had six employees and operated out of a 511 sq m (5,500-square foot) facility. By October 2006, it had moved to a 1,858 sq m (20,000-square foot) building and more than doubled its workforce.
Rezplast manufactures, sells and installs fiberglass pipe for applications in Northern Ontario's mining and forestry industries. It also manufactures emergency showers and environmentally friendly, portable Mining Toilets. All three product lines are contributing to the company's growth.
The Mining Toilet, a portable sewage treatment plant using bacteria to break down human waste, has found a receptive market since its introduction at MINExpo in 2004. Since then, Rezplast has aggressively promoted the product at dozens of trade shows, invariably returning to Sudbury with new orders.
"The more we get out there, the more we're known," said company general manager Sandro Spadafora. "We have shipped units to Ecuador, Chile, Mexico and all over the U.S. and Canada."
The Mining Toilet is safer, cleaner and has to be emptied only once every 12 to 18 months. Less handling reduces the potential for contamination and results in dramatically lower operating and maintenance costs.
However, it's the odour-free operation of the product that wins over the miners.
"One customer at a mine called and told me he wished he never bought one because he had miners from other levels coming up to use his toilet," said Spadafora. "They had no choice but to buy some more."
Another customer at a mine in New York State received such glowing reports from health and safety people and users offered by Rezplast as references that he wondered if they were all on the take.
"He said it was too good to be true, so I invited him to try one and within two months we received an order for six units," said Spadafora.
Rezplast relies on sister company, Sling Choker Manufacturing, for Mining Toilet sales in Canada and the U.S., but looks after sales elsewhere in house.
Though originally designed for the mining market, the product is also ideal for use in pits and quarries and forest harvesting operations. Spadafora is also confident that it has military and disaster relief applications.
The company's emergency showers are also selling well. Required by health and safety legislation as a first aid response system wherever workers are at risk of coming into contact with dangerous chemicals, the insulated and heated shower and eyewash units are in service in the mining and chemical industries across North America.
Twenty-one emergency showers were recently manufactured and shipped to one customer alone, said Spadafora.
While business is booming for Rezplast's showers and toilets, its fiberglass pipe business is benefiting from new capital spending and retrofitting projects sparked by the hot commodities market.
Ideal for conveying corrosive materials, fiberglass pipe is popular in acid plants and quench towers due to its light weight and strength.