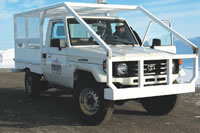 Off-road brake manufacturers serving a broad spectrum of end users haven't always been able to design their products to address the unique needs of the underground mining industry. Sometimes, it takes a local dealer to champion the industry's needs and lobby a manufacturer to develop a product more appropriate for the challenging environment of an underground mine.
Twenty-one years of experience with braking systems for the mining industry had convinced Paul Ballard of the Fluid Power House that there was a need for a better mousetrap.
The combination of fine particles and acidic mine groundwater in Sudbury's underground mines cause the exposed brake parts on personnel carriers to wear prematurely.
"They generally get about 30 days out of them and they have to do a brake job which costs anywhere from $600 to $1,000, so we decided to design a system that would last the life of a vehicle."
Ballard turned to Mico, Inc., a U.S.-based off-road brake manufacturer with whom he had been doing business for many years.
"We identified the opportunity, sat down with them and convinced them to work with us. 'Since Sudbury is the hub of the mining world, let us collect the data and figure out what we want to develop,' we told them. 'Your engineers can design it for us and we can jointly take it to market.'"
The result is the so-called Mico Wheel End Brake, a fully enclosed, wet-type multiple disk brake designed for personnel carriers with a gross vehicle weight of 8,000 pounds and less.
Ballard recruited two underground equipment manufacturers and refitters - Miller Technology in North Bay and Driftech in Sudbury - to participate in the research and development exercise.
"We explained what we were doing and they jumped on board," recalled Ballard. "They said, 'It's a great idea. We want to be involved with it,' so they arranged for test platform vehicles - Toyota Landcruisers - and went out of their way to install and test them."
In October, the vehicles were brought back from the field for inspection.
"Mico executives and engineers joined us and we did a teardown on the brakes. We were all impressed with what we saw and signed off on the design."
Miller Technology has been a fan of wet, enclosed brakes for 15 or 20 years, using them on heavy-duty Hurth-type axles, said Chad Miller, general sales and marketing manager. They were suited for heavy-build units capable of handling more weight, but "it's a lot of work to install them," he said.
The Wheel End Brake developed by Mico is ideal for lighter-duty vehicles used for transporting personnel at higher speeds and is less expensive and easier to install.
"We tried other brake systems for light-duty vehicles and in two hours, they're overheating and experiencing brake fade. This product is far superior to anything we tested in the last five years."
An initial production run of 100 brakes is scheduled to hit the market in January and additional testing is being done to develop the same braking system for vehicles with Dana-style axles.
The so-called fully enclosed wet-style brake isn't new to the mining industry. Bigger underground equipment such as load-haul-dump machines and haul trucks have been using them for several years and have generated "huge savings," said Ballard. Wet brake systems for lighter vehicles such as personnel carriers have also been available, but there were "technical issues" with them, he added.
Achieving the right price point and superior reliability were crucial to the success of the Mica Wheel End Brake. "You can't afford to put a $30,000 brake system on a vehicle worth $50,000 to $100,000," said Ballard.
The more modestly priced Mico brake offers mining companies a one-year payback for a vehicle with a three-year lifespan, he said.
The mine saves money on brake jobs and increased vehicle availability boosts productivity.
The development of a reliable and cost-effective brake system for light-duty underground personnel carriers is a reflection of the synergies in the Sudbury area mining cluster, said Ballard.
"If you're outside it, you don't get a handle on the dynamics of it, but I've been here for more than 20 years and lived in the environment. When you look at the co-operation between mining suppliers - even competitors - and how they bring different skill sets to solving problems, it's fascinating. We take it for granted."
The Wheel End Brake is the second brake system co-developed by Mico and the Fluid Power House. A driveline multiple disk brake system for heavy-duty underground mining applications such as carriers and scissor lift platforms resulted from their first collaboration.