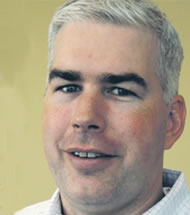 Joe Keenan hasn't used his degree in Geology from Laurentian University to discover a new orebody, but his knowledge of rocks set him on a career path that has been just as rewarding.  Born and raised in Sudbury, Keenan is vice president of Orica Canada Inc., a subsidiary of the Australian-based explosives giant.
Keenan began his career in the explosives industry in Thunder Bay and went on to spend close to 10 years at Orica's Washington, D.C. office before getting the nod to take on the top job in Canada. Based in Toronto, he oversees 35 offices and 800 employees from coast to coast.
Orica's Sudbury presence plays an important role in the company's Canadian operations.
Five years ago, Orica had four or five employees in the Sudbury office, said Keenan.  Today, there are 20 employees in the office and another 30 at several manufacturing, distribution and shop facilities in the city.
"Eighteen months ago, a decision was made to centralize customer service for all of Canada in Sudbury," said Keenan. "All of our accounts in mining, construction and quarrying have dedicated customer service technicians who answer their calls and take orders. They're not getting a different voice every time and they're not calling someone from the commercial team who would be conflicted between trying to make production and trying to get a delivery done."
The Sudbury-based team of 12 customer service technicians replaced a decentralized system that delegated customer service duties to employees who also had other responsibilities.
"By making it a full-time role, we were able to drive out all of the inefficiencies, and improve the customer experience," said Keenan.
Several factors contributed to the selection of Sudbury as a customer service centre.
One of Canada's largest mining centres, Sudbury is an excellent source of mining expertise. Its three post-secondary academic institutions - Laurentian University, Cambrian College and Collège Boréal – provide a training ground for skilled employees and the city's demographic profile facilitates the hiring of bilingual personnel.
"We've had a good presence in Sudbury for a long time and we felt it was a good base for us to grow on," said Keenan. "The success of our customer service in Canada has been because of the people we have been able to bring on board."
Blasthole loading
Orica's Sudbury presence has also been bolstered by the growing popularity of its blasthole loading service. A combination of a strong market and a shortage of skilled miners are responsible for the growing trend. Orica currently has eight units working in the Sudbury area to supplement its customers' own blasthole-loading capabilities.
"We do our own in-house training," said Keenan. "We look for the right people, and train them up into Orica's culture. We find that our customers have good experiences with our people and we try to be as responsive to them as possible."
The company also provides its customers with consulting services to optimize their blasting practices.
"We're not in competition with the large consulting houses. Our focus is that we influence rock from the mine to the mill. We sit down with customers at different levels in the organization and work with them to understand their flows and bottlenecks and areas of possible improvement. Then we utilize our measuring tools and engineering capabilities to help them."
While the explosives business is fairly mature, new technology is contributing to greater efficiency and precision.
One example is Orica's i-kon Electronic Blasting System.
"It allows a blaster to be able to communicate with the detonator to ensure it's responding back and knows the delay it's supposed to fire on," explained Keenan. "By knowing that, you are able to go in and remove stopes and pillars out of mines that were once more or less a dream to be able to remove."
Electronic detonation provides the blast crew with exact timing, "so if you tell it you want it to be 30 milliseconds, it is 30 milliseconds. That helps with the vibration, so you're able to blast closer to the shaft pillar, remove crowns and extract more ore. It gives you the confidence in knowing that each one of your detonators is going to fire in sequence."
Orica also manufactures its own line of explosives loading equipment, including advanced designs with robotic arms and cameras to reach up to the back to load blastholes and allow operators to work from a distance in high-risk ground conditions. A new shaft loader is also scheduled to hit the market later this year.
"It's basically a bulk vessel that is sent down to the bottom of the shaft by the hoist and it allows the shaft miners to pump explosives rather than lowering sticks into the holes. It reduces the cycle time and helps the shaft sinker develop the shaft faster."
Looking to the future, Keenan predicts that as mines go deeper, there will be more of a push to move people away from the drilling, loading and blasting cycle, both for ground control and environmental reasons.
Loading blastholes from surface sounds like science fiction, but that's the direction in which we're heading, said Keenan.
Orica is also branching out into related mining services with the acquisition in December 2006 of Minova International, a UK-based ground support company.