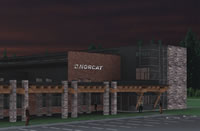 The Sudbury-based Northern Centre for Advanced Technology (NORCAT) has broken ground on a new 40,000 sq. ft. innovation and commercialization park at Cambrian College.
The $6 million facility will double NORCAT's capacity to host and mentor companies developing new products, technologies and processes.
NORCAT's existing 36,000 sq. ft building, opened in 1998, "is fully tapped out," said NORCAT CEO and executive director Darryl Lake.  "We're totally out of space. We have a waiting list of people who want to come into our residency program."
The current facility accommodates 14 residents and fledgling enterprises that are able to take advantage of inexpensive office and workshop space to work on new product development.  They include start-ups and existing small and medium- sized companies working on new products.
"This is pre-commercial space," explained Lake. "In an industrial park, you have to sign a lease. You're locked in. Besides, you can't find 1,000 to 4,000 sq. ft. of shop space in Sudbury. It doesn't exist anymore. It's all taken."
Incubating a new product at NORCAT is also ideal for existing small and medium-sized companies because of the challenges associated with innovation in a production environment.
"Small and medium-sized companies have to feed their families on the revenue that they generate," said Lake.
"Where do they make their money? Not in innovation. Innovation is a down the road type of thing. They may delegate some employees to work on a new product, but they pull them back when they're needed in the shop.
"More progressive local companies are saying, 'Whoa, I don't want them on the premises because every time I need them, I'm going to be tempted to pull them off the job. I want them cloistered so they can do their thing.'"
NORCAT provides a supportive environment with access to prototyping expertise, marketing assistance and industrial technology advisors form the National Research Council of Canada's Industrial Research Assistance Program (IRAP).
Companies accepted into the NORCAT residency program are carefully screened and mentored to maximize the potential for success.
"We're not just taking anyone with any hair-brained idea off the street," said Lake.
Stage-Gate
NORCAT has partnered with Stage-Gate Inc. of Ancaster, Ontario, to screen and monitor the progress of companies in residence. Founded by Dr. Robert Cooper and Dr. Scott Edgett, two of the world's foremost experts on product innovation, the Stage-Gate process keeps product innovators "on the straight and narrow" and makes sure they cover all the bases, said Lake.
The NORCAT innovation and commercialization park supplies tenants with telephones, computers, broadband Internet access and secretarial services. Workshops are equipped with forklifts, drill presses, lathes and other basic tools.
Rather than load up on in-house expertise and expensive equipment, NORCAT helps tenants tap into a network of more than 80 companies within the Sudbury region's mining cluster for assistance as required.
"This gives us a huge advantage over innovation centres that go out and hire expertise," said Lake. "After a few years, the expertise changes, but they're stuck with their experts, so they have to chase projects based on the expertise they have. We don't. We chase projects based on the expertise in the community. We don't have these 80 companies on our payroll. They do contract work for us."
The no-frills approach also applies to equipment. Rather than spend money on specialized equipment that will one day be obsolete, NORCAT requires tenants to rent specialized equipment or contract out services to suppliers in the region.
Since its founding in 1995, NORCAT has nurtured 40 new businesses, created approximately 1,000 jobs and helped with the development of approximately 150 new products.
Its biggest claim to fame is the work it is doing for NASA and the Canadian Space Agency in adapting terrestrial drilling and crushing technology for future missions to the moon and Mars.
Last year, NORCAT was awarded a $3 million contract to build an electric-powered drill that will penetrate the moon's surface to a depth of one metre, extract a core sample, crush it and hand it off to another piece of equipment for analysis. It also won a $500,000 contract from the Canadian Space Agency to continue work on a drill capable of penetrating the lunar or Martian surface to a depth of 15 metres.
Closer to home, NORCAT is working with 3M on the development of spray-on liners for ground control and with The Euclid Chemical Company on chemical additives for shotcrete.
As a member of I-CAN (Innoventures Canada), a recently established consortium of research and innovation centres across Canada, NORCAT will have the opportunity to participate in a broader R&D marketplace that will expose new products and technologies to other industries and applications.
The new innovation and commercialization park was made possible by funding from both the public and private sectors. The largest contributor, CVRD Inco, donated $2 million. The Northern Ontario Heritage Fund Corporation contributed $1.5 million and the City of Greater Sudbury pledged $400,000. Funding announcements by three other partners are in the works, said Lake.
At a cheque presentation ceremony held in September, Fred Stanford, president of CVRD Inco 's Ontario operations said, "The Innovation and Commercialization Park will be an important economic driver for the City of Greater Sudbury. The ideas that will be brought to market as a direct result of this initiative will help diversify Northern Ontario's economy, create employment and enhance our community's long-term competitiveness."
The new facility is expected to be ready for occupancy in July 2008.