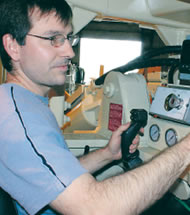 Mining Technologies International (MTI), a Sudbury-based manufacturer of underground mining equipment, demonstrated a hybrid diesel-electric load-haul-dump machine at the Canadian Institute of Mining and Metallurgy's Conference and Exhibition in Montreal April 29 – May 2.
Built at its Sudbury manufacturing facility in partnership with CANMET Mining and Mineral Sciences Laboratories, Natural Resources Canada, the 1.5 cubic yard LHD could serve as a prototype for the next generation of underground mining equipment.
Hybrid technology may prove to be the most practical means of addressing tougher standards for diesel emissions, suggested Vern Evans, MTI's general manager, capital equipment.
"We're probably going to have a lot of hybrids running around before we have (hydrogen) fuel cell-powered equipment," he said. "Twenty years ago they said we'd have fuel cells in 20 years. Now, they're still saying 20 years."
The MTI hybrid will undergo testing at CANMET's experimental mine in Val d'Or, Quebec, and will then be returned to Sudbury for testing in three area mines.
Evans expects the hybrid to cut emissions in half, depending on the duty cycle.
"When you're in the muckpile, you'll need some extra power, so you'll probably be running on diesel. When you're tramming, you'll be running mainly on battery."
A hybrid LHD will probably be more expensive, but costs will come down once demand kicks in "and we can build a few of them," said Evans.
The 1.5 cubic yard hybrid should be popular in gold mines with small headings where ventilation is a problem, but MTI also hopes to build larger units for other applications.
"There are a lot of people out there who have told us they want to buy some if it works."
MTI has also entered into a marketing, distribution and manufacturing agreement with Hy-Drive Technologies Ltd. of Mississauga, Ontario to apply Hy-Drive Hydrogen Generating System (HGS) technology to the mining industry. The HGS unit introduces small amounts of hydrogen gas into an engine's combustion chamber, resulting in a more complete burn of the fuel, reduced emissions and improved fuel economy.
The technology is currently being tested at CVRD Inco in Sudbury and at HudBay Minerals' Balmat Zinc Mine in New York State, said MTI's Hy-Drive product manager John Kelly.
MTI has negotiated exclusive distribution rights for Hy-Drive sales to both surface and underground mining operations worldwide.
"The technology is still in its infancy, but one of these days it's going to break out," said Kelly. "Once you have enough believers, then the rest of the people will become believers."
www.mti.ca www.hy-drive.com