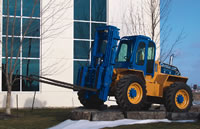 Mobile Parts Inc. is adding 24,000 square feet to its location in Sudbury in response to customer demand in the booming mining industry.
The new addition will be used for the mine machinery and parts supplier's shipping and receiving department, and will also provide more office space.
Construction started in May and is due to be completed late this month.
"Mining is booming now. We've got to try to keep up with our customers' demands, and in order to do that, we need more space," said the company's controller, Lynne St. George.
Business has been so good that Mobile Parts has gone from 35 employees to over 60 in the past four years, she said. About 40 per cent of the company's customers are from outside Canada.
In September, the 27-year-old company started supplying Omega Lift Manufacturing Inc.'s Mega Series of forklifts. The large forklifts, manufactured in Bolton, Ontario, have a 16,000 to 50,000 lb. weight capacity.
Several sales are already in the works, said the company's network administrator, Darren Bissonette.
"They're for more ruggedized use, so they can run on rougher terrain. Your typical forklift wants to run on a nice cement floor," he said.
"These (forklifts) aren't just for the mining industry. They can be used for construction and in lumberyards. We'll be targeting them for sales as well."
The company stocks approximately 30,000 parts for mobile mining machinery. It also has a driveline repair and manufacturing facility, sells, modifies and services Toyota Landcruisers for use as underground personnel carriers and supplies an enclosed brake system (the Sealed Integrated Braking System manufactured by Safe Effect Technologies in Australia) that reduces the risk of corrosion in the acidic underground atmosphere.
It plans to modify about 30 Toyota Landcruisers between now and May 2008, with about four being finished each month.