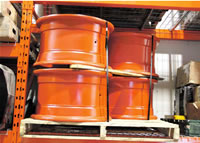 During its 26-year life span, Sudbury-based Mobile Parts Inc. has grown from a modest distributor of truck parts for tractor-trailers into a major supplier of parts, equipment and mobile carriers for underground mines.
The company's website boasts an expansive array of brand name and generic parts for underground mobile equipment. Hoists, drivelines, electrical components, valves and pumps are some of the product lines available, but Mobile Parts initially earned its reputation by rebuilding and modifying brakes to meet mining industry requirements, said general manager Bob Morin.
"Three years after the company opened, we began supplying the mining industry with just brakes, so that's how we got to be known as the brake specialists."
Today, the company continues to live up to that reputation, evidenced by ongoing research into the development of brakes, particularly for underground environments where high levels of acidity accelerate corrosion. Mobile Parts has been supplying mining companies with Sealed Integrated Braking Systems (SIBS) for the past six years. The enclosed system reduces exposure to contaminants, thereby prolonging the brakes' lifespan.
The company continues to pursue further research into brake development.
Mobile Parts has partnered with the South African manufacturer and engineering firm, NCS, to refine a Sealed Braking System (SBS). "We have one of their brakes in the testing phase of development. It is a new system, but not yet proven, so it won't be on the market until it meets all the standards of approval," said Morin.
The experimental system operates on the principle of reverse modulation. In conventional braking systems, hydraulic pressure is applied to calipers that close onto rotors and stop the vehicle. The reverse happens under reverse modulation. When the brake pedal is applied, hydraulic pressure is removed, allowing the mechanical action of the calipers to close onto the rotors of each wheel.
As its name implies, Mobile Parts generates most of its sales as a parts supplier to mining companies in Canada and abroad. "About 40 per cent of our sales come from our export activities," Morin said.
Ten years ago the company was a newcomer to the export market. Today, it ships regularly to at least a dozen countries on most continents. The company's rapid growth in the preceding five years is showing no signs of abating. Morin attributes the firm's export success to its multi-pronged marketing approach, supported by hard work. "We go to trade shows all over the world to make sure people know about us," he said.
Advertising in trade journals and updating websites play supporting and significant roles in an overall marketing strategy.
But challenges to the export business are ever-present. Corrupt governments, stifling bureaucratic rules and complex tax and duty policies are some of the formidable barriers to overcome. Others are simply due to the diversity of regulations in each country.
"National standards are different everywhere, and it's incumbent upon us to ensure those standards of emission controls, braking and other regulations are met," Morin said. To help navigate all of the regulations, Mobile Parts relies on Sudbury's George Gray Customs Brokers and a sales department equipped with two representatives who deal strictly with export markets.
Other challenges are more local, arising from the strain of growth. Mobile Parts stocks literally thousands of parts at its location in Valley East, a suburb of Sudbury. Product lines are available in several models from various manufacturers, thus forming a complex matrix of supplies in an inventory supply chain that has grown fivefold in the last five years. Technology has played a significant role in maintaining an appropriate inventory.
"We have a computer system that lets us know what we have to stock. The more turnover, the more inventory is required."
While brakes, axles, power train components and miscellaneous parts drive about 70 per cent of sales, significant business is derived from a line of mobile carriers retrofitted for underground mining environments. Chassis supplied by Toyota form the skeletal structures around which Mobile Parts constructs personnel carriers, scissor lifts, man lift trucks, flat decks and other carriers required for underground transport. Morin says the Toyota Land Cruisers have proven applications in the industrial and mining sectors, but little is left of the original vehicles that enter the shop. "We will strip the vehicles down completely; sometimes changing the brakes, joints, axles, and even the suspension system. Often, the cab will be cut off at the windshield level to provide a complete, open design," he said.
Customer orders must be completed before the expensive vehicle-modification procedure begins. So far, land cruiser carrier sales occur only in Canada, at least until the problems of exorbitant export duties and government approval from overseas jurisdictions are overcome.
For Morin, who manages a staff of 50 employees, the future looks bright - largely because of the company's sound management and high commodity prices. "My feeling is that we can look forward to another seven to 10 years of solid growth in the mining industry," he predicted.