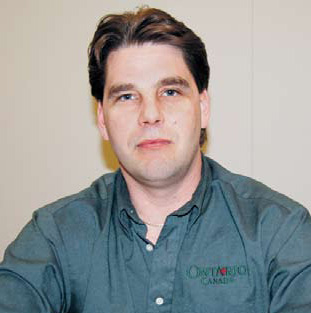 Thirteen mining industry suppliers from northeastern Ontario participated in a national buyer-seller forum in Edmonton March 13 to 15 to learn about opportunities in Alberta's booming oil sands projects.
Among them were steel fabricators, mechanical and electrical contractors, an industrial automation company, a hardfacing company and a manufacturer of fiberglass products.
Previous buyer-seller forums focusing on opportunities in the oil sands have been restricted to companies in Alberta. This year's event was open to suppliers from across Canada.
More than $147 billion worth of projects have already been announced or are underway in the oil sands, said Paul Bradette, Northern development advisor with the Ministry of Northern Development and Mines. "It's the second largest oil deposit in the world next to Saudi Arabia. They're going from one million to 3.5 million barrels a day. A lot of Canadians don't realize what's there."
The three-day event attracted approximately 500 suppliers from across Canada and featured guest speakers, panel discussions, a supplier showcase and one-on-one meetings with tier one suppliers in Alberta.
The Ontario government hired one consultant in advance of the event to line up one-on-one meetings and another to advise Ontario delegates on effective networking strategies. The Ministry of Northern Development and Mines sponsored a hospitality suite for the 13 Northern Ontario companies and supplied their prospective clients with an electronic database detailing their capabilities.
Record prices for base and precious metals are keeping mining suppliers in northeastern Ontario busy, but "a lot of these guys have been through the mining cycle before," said Bradette.
"We realize it's important for companies to look at export markets like Chile (to diversify their customer base), but there's also a domestic market that's right here. We understand the culture and there are no borders to cross, so it makes a lot of sense and it's a very lucrative market."
Bedard Hardfacing Limited, a Sudbury-area company specializing in hardfacing small diameter pipe, made several contacts and hopes to generate business as a result of the forum.
Other companies saw just as much value in being able to network with other Ontario suppliers. Marcus Popp, vice president of G&P Welding and Iron Works in North Bay, has already issued a few purchase orders to fabricating shops in Niagara Falls and Windsor for the supply of specialty services.
The North Bay steel fabricator does a lot of business with Metso Minerals Ltd., a manufacturer of milling components in North Bay, and fabricates masts and frames for Boart Longyear drill rigs. A custom fabricating shop, G&P also does structural steel, pressure vessels and bridges. It recently completed a railway bridge in Pickering, a Toronto suburb, and is working on a couple big overpasses in Ottawa.
"In this business, you don't get the opportunity to go into other people's shops, so having the opportunity to meet and network with other fabricators and suppliers was the most interesting part of the event," said Popp.
The extent to which tier one suppliers in Alberta are prepared to sub-contract their work to fabricators in other provinces is still a question mark, "but we did speak with some people who had an interest in what we do, so I'll keep pestering them and see what happens," he remarked.
Suppliers interested in finding out more about opportunities in the oil sands are welcome to access the Innovative Canadian Oil Sands Manufacturing Opportunities web portal at www.icosmo.com.
www.2ontario.com/north