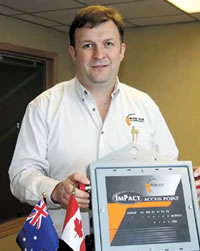 The tangle of wires and cables snaking through underground mines will soon be a thing of the past, according to Will Gove, Mine Site Technologies' general manager for Canada.
"There's a new wave starting to move through the mining industry with respect to communications technology," said Gove, who heads up the Australian company's Canadian office in Sudbury.
Separate systems for voice communications, central blasting, equipment and personnel tracking, seismic monitoring and ventilation control will inevitably give way to convergence of all of this infrastructure onto a common wireless network, he predicts.
"A lot of mining companies are moving away from traditional leaky feeder technology, which is now 20 to 25 years old. It's still a fantastic technology, but there are a number of mines that are looking to move to wireless networking technology."
One of the main drivers for the move to wireless networking is the opportunity to collect data relating to mine production.
"Traditionally, data collection in the mining industry has been a very manual process," said Gove. "You fill in a piece of paper, take the piece of paper to surface at the end of the shift and transfer it into a computer. Wireless networking allows that to happen automatically."
With accurate, real time data at their fingertips, mine managers will have a better understanding of their operation and make better decisions, said Gove.
"The problem with an underground mine is that you have a bunch of assets being deployed underground and you don't really know what they do. They literally disappear into a dark hole. It's not like you can stand over a production line and see things happening with your own eyes.

Data
"A mine manager relies on data to make business decisions. This technology brings data to the foreground and centralizes it," he said.
For example, sensors installed on load-haul-dump vehicles or haul trucks can wirelessly transmit how many tonnes of ore are being transported to the loading pocket.
Wireless networks can also accommodate Voice over IP (VoIP) technology, replacing traditional two-way radios and leaky feeder cabling. VoIP allows miners underground to make and receive calls over the public phone system and hold private conversations, but its adoption has been held back in part by the lack of a ruggedized handset, he said.
"VoIP handsets are sold by the thousands to the medical and healthcare industry and for use in warehousing and logistics, but they're not mine-hardened. There's also a cultural challenge because miners are familiar with two-way radio technology and a lot of them like it."
Mine Site Technologies has supplied a wireless network and VoIP communications to Rio Tinto's Diavik Diamond Mine in the Northwest Territories "and they're quite happy with it," he said. In fact, according to Gove, Rio Tinto is currently evaluating its communication requirements and considering the deployment of wireless networks in their mines worldwide."
Voice communications would just be one of several applications because "once you put in a wireless network, you can pretty much do anything you want with it."

Mecca of mining
Mine Site Technologies opened its office in Sudbury in 2004 to service and support the Canadian mining market. The company currently has eight employees in Canada and a second, smaller office in Edmonton. "The Sudbury Basin has one of the highest concentrations of mining activity anywhere in the world, so this is the Mecca of mining and a good place to do business," said Gove, an Australian ex-pat who was transferred to Canada by Atlas Copco 10 years ago and recruited by Mine Site Technologies last year to manage its Canadian operations.
Based in Sydney with three branch offices across Australia, Mine Site Technologies handles sales elsewhere in the world through distributors. Founded in 1989, the company literally made waves in the mining industry by commercializing its innovative Personal Emergency Device, or PED system, an ultra low frequency "through-the-earth communication technology.
In an emergency situation, text messages communicating escape routes or details about the emergency can be transmitted through 800 to 1,000 metres of rock to receiving units installed on mobile equipment or integrated into a miner's cap lamp battery. The system can also be used for centralized blasting or to control ventilation fans and pumps.
"The greatest benefit of through-the-earth technology is that there is virtually no infrastructure," said Gove. "You're using the rock as the transmission medium. All the other technologies continually need to be extended to keep up with the development of the mine. The other advantage is that in the event of seismic activity, there's no infrastructure to be damaged."
The disadvantage of through-the-earth technology, however, is that communication is only one-way.
The system is currently used in more than 150 mines around the world.
Mine Site Technologies also supplies cap lamp systems integrated with two-way radios and RFID tags, tracking technology for mobile equipment and personnel, and leaky feeder systems.