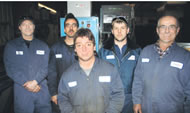 When Ray Bedard returned home to the Sudbury area in October 2003 following a 38-year career as a welder in southern Ontario, his business plan took up the better part of a transport trailer. A mothballed hardfacing machine he discovered in Niagara Falls a few years earlier was all he needed to guaranty a successful business startup.
With one of the few machines in Canada capable of welding a chromium carbide coating inside small diameter pipe, Bedard didn't have to worry about carving out space in a competitive market. He was already doing business with Sudbury's Falconbridge operations (now Xstrata) and had several other established customers he could rely on from day one.
Hardfacing prolongs the life of steel pipe used to transport abrasive slurries in the mining, steel, cement and forest industries. Bedard's machine can weld a continuous bead of chromium carbide wire inside a 10-foot length of pipe as small as four inches in diameter.
"We just finished a job on 16-inch diameter pipe and I've done up to 30 inch diameter pipe on this machine," said Bedard. "We can also go down to 2.5-inch diameter, but only in four-foot lengths."
It didn't take long for Bedard Hardfacing Limited to ramp up. Based in Hagar, 40 kilometres east of Sudbury, the company has gone from two to six employees in a little over two years and was operating 24 hours a day to clear a backlog earlier this year.
Bedard struck a deal with Sudbury-based Sling-Choker Manufacturing for representation in Northern Ontario and part of Manitoba, and has another agent, Retro-fans Industrial, covering the U.S. market and Labrador.
"We're doing a big job now for an operation in Utah," he noted. Anticipating continued growth, Bedard has been busy scouring North America for additional hardfacing machines, including one to do elbows as small as five inches in diameter. Bedard currently hardfaces elbows manually, but it's a tedious, time-consuming job.
He is also exploring potential business opportunities in the booming Alberta oil sands industry and came away from a recent suppliers forum in Edmonton with several promising contacts.
"I had several meetings with companies in Edmonton that hardface plates, but they also get calls to do pipes. Another company just bought a plant to hardface pipe, but their machine can't do anything less than 10 inches." Focusing on small diameter pipe provides Bedard with a niche market that is poorly served.
"There are companies out there that can do 40-inch pipe using humungous machines with four heads, but that's too much. You need big overhead cranes and a shop 200 feet long."
ISO 9001:2000 and Canadian Welding Bureau certification is currently in the works and should open even more doors, said Bedard.
While its core business is small diameter pipe, the company is also a distributor of ultra-thin hardfaced wear plates for chutes, liners and buckets.
"Normally, steel wear plates are one-quarter inch with a one-eighth inch overlay, or one-quarter inch with a one-quarter inch overlay. It's a very thick plate."
The ultra thin wear plate is less than three-sixteenths of an inch thick and considerably lighter than conventional plates.
"That's a big advantage if a person has to repair a chute," said Bedard. "Instead of carrying a plate that weighs 25 to 30 pounds per square foot, this one weighs six to eight pounds per square foot."
Bedard left his home in St. Charles, a small community southeast of Sudbury, at the tender age of 16 and spent 38 years in the welding trade, including assignments in Mexico and Brazil, where he trained welders working on furnaces in steel plants. He was introduced to hardfacing in 1986 as a welding supervisor for Houston-based Triten Corporation, a global leader in hardfacing.
"I love it because it's something that not too many people want to get involved in and I like a challenge. If someone says, 'This can't be hardfaced,' I say bring it to me and let's see."