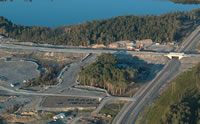 Chris Cormier, general manager of the former Porcupine Joint Venture mines in Timmins, said a recent buyout of the operation by Goldcorp Inc. will probably make his job a little easier.
"When you're dealing with a joint venture, it's double the meetings. There are just more administrative type duties. One owner can be more focused on the entire camp," he said. "I just have one boss now, basically."
Cormier has had several employers in the last few years.
In 2002, Placer Dome and Kinross Gold Corporation formed a joint venture and combined their Porcupine gold properties. Then, on May 12, 2006, Goldcorp acquired Placer Dome's 51 per cent interest in the mines.
On Sept. 25, 2007, Goldcorp took its business interests in Porcupine one step further, becoming sole owner of the mines. At the same time, it also assumed full ownership of the Musselwhile gold mine in northwestern Ontario by acquiring Kinross's 32 per cent share of that operation.
In exchange, Kinross will receive Goldcorp's 50 per cent stake in the La Coipa silver-gold mine in Chile and $200 million in cash.
Goldcorp's properties in the Timmins area include the historic Dome Mine, which was first mined in 1910. The mine produces about 1,000 tonnes of ore per day, grading four grams of gold per tonne.
The Hoyle Pond underground mine also produces 1,000 tonnes of ore per day, but with 12 grams of gold coming from each tonne of ore, it is much higher in grade. It was recently deepened to access new veins of ore.
The new Pamour open pit mine is a large, low-grade gold operation. It produces 8,000 to 10,000 tonnes of ore per day, grading 1.5 grams of gold per tonne.
More than 800 people (600 employees and 200 contractors) work at the three gold mines.
Cormier expects the Pamour pit to have a life of five to 10 years. It is on the site of a former underground mine, which was operated from the 1930s until it closed in 1999.
A fleet of Caterpillar 785 trucks, which can hold 136 tonnes of ore, is being used to haul ore.
To develop the open-pit mine, $20 million was spent to re-locate a portion of Three Nations Lake and 6.1 kilometres of Highway 101, which ran over the orebody. The new portion of the highway opened in the summer of 2006.
300,000 ounces
Every year, 4.2 million tonnes of ore from the three mines are fed through a gold processing mill at the Dome Mine site. Approximately 300,000 ounces of gold come from the Porcupine properties each year.
The company had to put an addition onto the mill and buy new equipment to process the hard Pamour ore.
Goldcorp also has an active exploration program to ensure there is always more gold to mine.
The company even spent $12 million in 2007 to determine the viability of re-opening the Hollinger and McIntyre mines, which closed in 1968 and 1989, respectively.
The results of this exploration will be released in a pre-feasibility study in April 2008.
Although high gold prices are always a good thing in the mining business, Cormier said they're just making up for other, less favourable conditions.
The soaring Canadian dollar has taken a big bite out of the mines' profits, he said. "We sell our product in U.S. dollars, and four or five years ago, we had a 45 per cent premium. That 45 per cent premium sort of eroded away."
Power is also extremely expensive in Ontario, which takes a bite out of profits, said Cormier. "High energy pricing is one of those things that we need to deal with in Ontario. It has had an impact on our costs."
The company is looking to save money by conserving energy and finding better products to reduce costs, he said.
Like all mining ventures, the Porcupine gold mines are having a hard time finding enough skilled workers.
But Cormier believes he's had an easier time finding employees than most mine managers because Timmins is just minutes away, and people don't have to leave their families for weeks at a time to work in remote mining camps.
The mines have also benefited from the closure of forestry operations near Timmins in recent years, he said.
"We've taken full advantage of that," said Cormier.