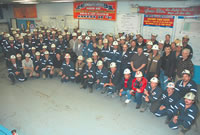 Achievement lies not so much in reaching a destination, but in the journey to get there.
Minds shift and old habits die off, while healthier practices are adopted along the road. It takes hard work and energy to change ingrained patterns.
When it comes to safe working practices, Inco's Garson Mine in Sudbury is in the vanguard of behaviour modification.
With 574 injury-free days, Garson Mine has been recognized by the Canadian Institute of Mining, Metallurgy and Petroleum (CIM) as Canada's safest metal mine for 2005.
Management and workers were awarded the John T. Ryan Trophy at the CIM's 108th annual conference and exhibition held in Vancouver earlier this year. Their close to zero reportable injuries record and their lowest lost time accident rate for 2005 made them a prime candidate for the trophy, which is emblematic of safety leadership.
Every year, Inco asks its foremen, superintendents and managers from every plant to develop a daily, weekly and monthly safety strategy that is aligned with company standards.
Each plant assesses its priorities through monthly meetings and "all levels of management are responsible for following the plan," said mine superintendent Terry Cholewinsky.
Group leadership is key to attaining the goal, he said. "A lot of things have to come together. There has to be a will and a belief that this can be accomplished and the employees all have to work hard to accomplish it."
Achievement came in small increments for Garson Mine. When workers attained a three-month, then a six-month goal without any disabling injuries, managers celebrated their success. Suggestions and recommendations were welcomed, regardless of worker status.
"If it means shutting down mine production to correct a deficiency, then that is what is done," said Cholewinsky.
Workers who are involved in a disabling injury are not permitted to report for the next scheduled shift to perform normal duties.
Laminated cards
Risk assessment cards outlining the proper health and safety practices for potentially hazardous situations are carried around by mine workers at all times. This laminated piece of paper fits snugly into a pocket of each worker and can be pulled out for referral at a moment's notice. This helps to reinforce good safety practices, Cholewinsky said.
Even more interesting is what is on the back of these cards. Photographs of families, girlfriends and leisure activities, including fishing and boating, remind workers of the importance of staying healthy and safe. The practice of laminating personal photographs on the back of these company cards is unique to Garson Mine, but not for long. Due to its overwhelming success, Cholewinsky intends to take the idea to several other Sudbury mines. "It works. The proof is in the pudding," he said.
With Sudbury mines going deeper and the summers getting hotter, there is a greater need to educate workers inside and outside the workplace, said Dave Duncan, who took over mine superintendent duties at Garson Mine when Cholewinsky was offered another challenge.
Deeper mines have their own risks, heat stress being one of them. Workers will have to keep hydrated through the shifts and learn to stretch to avoid muscle and ligament damage, Duncan said.
While accidents still happen in the workplace, there is evidence that more accidents happen outside of work. Watching out for fellow employees on and off the job will be a growing priority, said Duncan.
By 2015, the aim is to have three Inco plants with a zero harm status, which means no fatalities and no injuries that require medical attention, said Dave Cockburn, United Steelworkers worker and safety representative for Garson Mine.
Mines are not made up of just bricks and mortar. Nor is it the company name above the door that makes the mine, said Mark Cutifani, Inco president for North American and European operations.
It is the people working at the mine who carve out its reputation.
"And there is no greater success than the achievement here," Cutifani said.
"It is a privilege to work for you," he told Garson miners at a reception this summer celebrating their achievement.