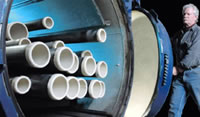 Fuller Industrial, a Sudbury manu-facturer of process piping and elastomeric lining systems, has scooped up a $500,000 contract for the supply of rubber-lined pipe and fittings for an overseas concentrator and is poised to win another $8 million contract for a second concentrator, announced company president Jeff Fuller.
Equipped with an 11-foot wide by 55-foot long autoclave for curing rubber, Fuller Industrial has experienced spectacular growth since opening its doors in 2004. Sales have doubled every year and the company is successfully competing against South African, Australian, European and North American competitors for international contracts.
The company has 30 employees and plans to hire another 15 to cope with increased business.
Price is a factor in winning international contracts, but engineering firms overseeing multi-million dollar capital projects are equally concerned about a vendor's capabilities and track record, said Fuller.
"They want to have a comfort level. They want to feel confident that they're going to get what they need. The specifications are very strict and there aren't a lot of companies that can do this kind of work."
Fuller has also announced the opening of a new division, Fuller Valve, to manufacture flexible piping connectors, expansion joints, duct connectors, duckbill check valves, pinch valve replacement sleeves and purpose built pinch valves.
Under the direction of Ian Watson, a 30-year industry veteran, the division will diversify the company's customer base and expose it even more to the export market.