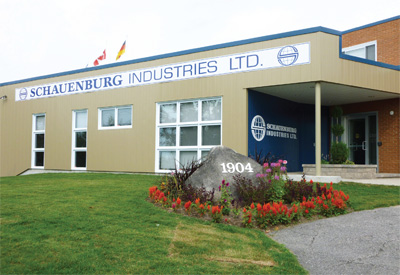 Schauenburg Industries Ltd., a ventilation ducting manufacturer in North Bay, is on a roll. A wholly owned subsidiary of Germany's Schauenburg Group, the company has new management, an aggressive growth strategy and new and expanded offices.
The North Bay business manufactures and supplies a full range of underground ventilation ducting, including soft flexible ducting and the rigid fiberglass variety. Primary markets are Ontario and Quebec, but the company also does business across Canada and occasionally fills orders overseas.In the last year, Schauenburg Industries has increased sales by 50 per cent, expanded its workforce from 14 to 24 employees and qualified for ISO 9001 certification. The rejuvenation of the company coincided with the appointment of Don Croteau as managing director two years ago. A former sales agent for the company, Croteau has a mining engineering degree from Laurentian University, worked for Denison Mines in Elliot Lake early in his career and spent 16 years selling explosives to the mining industry.
Schauenburg established the North Bay plant in 1969 in a 6,000 square-foot building. In the early 80s, it doubled in size to 12,000 square feet and was expanded again in the late 80s to 18,000 square feet.
The company is the only manufacturer of fiberglass ventilation ducting in Canada, but competes against Sudbury-based Rock-Vent and ABC Canada Technology Group in Saskatoon in the flexible ducting market.
The ventilation ducting business doesn't experience much in the way of innovation beyond the shape and size of the product and the fastening systems used to hold the product in place. However, ducting design can impact a mine's bottom line, as is the case with oval ducting, which creates more headroom for underground equipment and less damage to the ducting.
Using oval ventilation ducting, mines "don't have to excavate as big a drift for the underground equipment to go through," said Croteau. "They don't have to excavate all that waste so there's less cost to the mine."
Schauenburg Industries manufactures oval ventilation ducting in both flexible and rigid styles.
As a commodity with minimal opportunity for differentiation, "the most important thing is delivering it to customers when they need it," said Croteau.
The Schauenburg Group manufactures underground ventilation ducting at plants in South Africa, the U.K., France, Germany and the U.S.
In 2006, the German company acquired Sudbury-based Jannatec Radio Technologies, a manufacturer of radio cap lamps and collision avoidance systems.