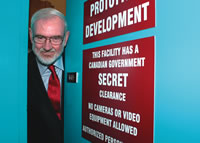 The Sudbury area's status as a mining supply powerhouse wasn't always as obvious as it is today.
In the late '70s, when nickel prices hit rock bottom and the city was pummeled by a succession of layoffs and strikes, doom and gloom predominated.Reporters standing in front of boarded up downtown storefronts appeared on national news broadcasts to chronicle the city's demise and Sudbury's youth hit the road at the earliest opportunity in search of greener pastures.
However, adversity can also be a powerful stimulus to action.
Darryl Lake, president and CEO of the Northern Centre for Advanced Technology (NORCAT), was one of many Sudburians in the late '70s who heeded the call of a community newspaper publisher's front page editorial with the supersized headline, "When the going gets tough, the tough get going."
Lake moved to Sudbury in 1968, began teaching Chemistry at Cambrian College and went on to serve as dean of technology. Life was good, but Sudbury's bleak economic prospects convinced him to expand his focus beyond the contribution he was making in academia.
"In 1982, we thought we would do something for the North and start an Occupational Health and Safety Resource Centre," he recalled. "There were three or four other centres at the time (in southern Ontario), but they were all attached to universities, not colleges."
Bureaucrats turned down the proposal, but not one to give up so easily, Lake pitched Ontario Minister of Labour Russ Ramsay, a fellow Northerner from Sault Ste. Marie, and an exception was made.
"That was my first venture in entrepreneurship and dealing with government and it was fun," said Lake. "When you win, it's always fun."
Lake's biggest accomplishment, the founding of NORCAT, a product development and commercialization centre, took shape as an idea in the early '90s.
Inspired by Finland's success with technology centres, Lake came to the conclusion that with a little bit of help, small and medium-sized mining suppliers in the Sudbury area could expand to serve a wider market.
"That's where I saw the possibility for big growth," he said. "The big companies would stay big and do well, but the little guys had to do more than they were doing."
But before he could begin assisting the risk-taking entrepreneurs in the mining supply sector, Lake had to take a big risk himself. He had to leave his cushy job as dean in 1995 and sink or swim with NORCAT.
There were some tough times along the way, but Lake and his team persevered. A 36,000-square foot building with shop space and offices opened in 1998 and a 40,000-square foot innovation park is currently under construction. See related story
With the additional space, NORCAT will be able to accommodate 28 residents and fledgling enterprises working on product innovation and commercialization.
Consolidation
Having a technological edge is more important than ever as consolidation impacts the mining industry, said Lake.
"Xstrata and CVRD are global players and the supply chains themselves have become global. In today's business environment, no mining company will buy an inferior product at an inflated price. Suppliers have to be price competitive and they have to be quality competitive. Our job is to bring them technology that they can adapt for their industry. That's what our innovation park is all about."
Financial solvency, the biggest challenge for any technology centre, was addressed by absorbing the money-making Occupational Health and Safety Resource Centre's training business. That was supplemented in 1998 when Inco and Falconbridge asked NORCAT to assume responsibility for providing contractors with the training they require to work on mine property.  The NORCAT Mine, on the North Rim of the Sudbury Basin, also generates revenue from product testing and common core training.
Probably the most celebrated of NORCAT's achievements is the prototype work it does for NASA and the Canadian Space Agency.
Lake himself planted the seeds for collaboration with NASA when he called on the Kennedy Space Centre in Florida in 1995. NASA scientists knew that they would have to apply mining expertise in space one day.
"They had a choice," said Lake. "They could either invent everything from scratch or they could partner with someone who already knows something about it."
Since then, NORCAT and several Sudbury area mining supply businesses have won millions of dollars worth of contracts to build prototypes of drills and other mining equipment for use on future missions to the moon and Mars.
Networking
Decades of networking have paid off for Lake. He's on a first name basis with cabinet ministers at both the federal and provincial levels of government and senior executives of some of the largest companies in North America.
NORCAT's impressive track record and Lake's passion for technology and innovation combined to secure the $6 million that was required for the centre's current expansion.
Lake, 65, could retire on a high note, but he's having too much fun.
The doom and gloom of the late '70s have given way to an unprecedented mining boom. More and more suppliers are competing globally, the region's youth are returning home and record commodity prices are fueling the discovery of new orebodies, but good times aren't an excuse to ease up. On the contrary, as a member of a Conference Board of Canada panel tasked with advising the Canadian government on industry sectors to champion, Lake is taking his passion for the mining industry to a national stage.
Designation of the mining industry as a key driver for the Canadian economy would result in strategies and action plans to assist mining suppliers and the industry generally in achieving success in the global marketplace.
"It really bothered me that Canadians don't recognize mining as a very important part of our economy," said Lake.
"It was a tough battle. They saw mining as a sunset industry, but I guess I was loud enough and forceful enough for mining to make the list."