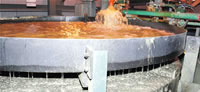 The commissioning of a new copper separation circuit at CVRD Inco's Clarabelle Mill has created new capacity at the company's smelter and clears the way for new mine development and ore production.
"The extra capacity created by the copper separation circuit puts us in a position to look at accelerating the mine projects in our pipeline, such as Totten and Kelly Lake," said Michael Winship, Vice President, Mines and Mill for CVRD Inco's Ontario Division.
The $52 million circuit is diverting 30 per cent of the copper concentrate from the smelter's feed, freeing up capacity for processing more nickel. Nine truckload of copper concentrate, each with a payload of 40 tonnes, are being shipped to the Xstrata Kidd metallurgial facility in Timmins and its Horne smelter in Rouyn-Noranda, Québec, every day.
The copper separation circuit was proposed in the first quarter of 2005, scheduled for completion by February 2007 and commissioned four months ahead of schedule in October.
With nickel selling for a price four times higher than copper, "it's a way of maximizing the business," said Andy Kerr, Superintendant of Process Technology for Clarabelle Mill.
The process employs flotation technology to separate the nickel and copper. Reagents introduced into the flotation cells cause the copper sulfides to adhere to air bubbles, which rise to the surface of the flotation columns. The copper sulfide particles are then skimmed off, thickened and dried before being loaded into trucks.
"That's the magic of flotation," said Kerr. "It's an amazing process. It's been around for more than 100 years and it's still only partially understood."
Also underway at CVRD Inco is a pre-feasibility study to consider the expansion of the Clarabelle Mill to accommodate an additional two million tons of milling capacity. The proposed expansion would increase capacity from 10.5 million tons to12.5 million tons per year.
Several feasibility studies for mine development projects are also underway to boost ore production. The company is conducting a feasibility study with a view to sinking a new shaft to serve its Copper Cliff North and South Mines and is also studying the development of its nearby Kelly Lake deposit as part of an integrated North and South Mine complex. Formal approval for the development of Totten Mine, 40 kilometres west of Sudbury, is expected soon. Production is expected to commence in 2010 at a rate of 2,200 tons of copper/nickel ore per day.
Feasibility studies for increased production from Coleman, Creighton, and Frood/Stobie mines are also underway.