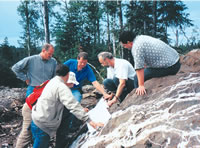 The Ministry of Northern Development and Mines (MNDM) is launching an Electronic Assessment System (EAS) to allow mining claim holders in Ontario to file assessment reports online.
The reports, detailing exploration work performed by prospectors and exploration companies, are required to keep mining claims in good standing.
Until now, claim holders had to submit their reports in hard copy to comply with Mining Act regulations. An amendment to the regulations, effective August 8th, was required to allow for electronic filing.
s
Migration to a Web-based reporting system will save both claim holders and the Ministry time and money, said MNDM project manager Phil Hum.
"Ninety-five per cent of the assessment reports that are being sent to us are created in digital format, but the Act said they had to submit two paper copies."
The Ministry then had to incur the expense of scanning the reports to make them available for public viewing on its Earth Resources Mineral Exploration Site (ERMES), which was recently revamped and renamed Geology Ontario.
"It didn't make much sense, so that's why we went to a Web-based application," said Hum.
The reports range in size from two to 600 pages and can include dozens of oversize maps in colour, which can be expensive to print.
Hard copies of electronically filed assessment reports will no longer be stored in the Ministry's library in Sudbury.
"If someone comes to our office and asks for a report, we'll just go to the same Web site they can go to and print it out," said Hum. "We'll charge them, but they could also read it and print it out at home."
Backlog
The Web-based system will streamline the reporting process and accelerate the availability of the reports to the general public. Until now, the time and expense to scan hard copies and the limitations associated with ERMES resulted in a three or four-year backlog of reports waiting to go online.
With electronic filing, the Ministry will be able to upload them to Geology Ontario as soon as they are reviewed and approved.
EAS will also expedite the reporting process by catching errors as reports are being processed.
"For example, it will search our database of mining claims and tell you if it's a valid claim," said Hum. "Sometimes, reports are submitted for claims that have already been cancelled. With EAS, you know immediately."
It checks the ownership, the validity of the claim and the accuracy of calculations, eliminating errors that would have forced Ministry staff to contact the claim holder to clarify or revise a report.
Claim holders using the new system are able to electronically submit technical reports, drilling reports and maps, but will first have to convert them to pdf format. Users are given 24 hours to complete the process. After that, the data entered is wiped out and they have to start over.
Once a report has been filed, a user can access it online to check on its status. If changes have to be made after a report is submitted, the claim holder has to confer with Ministry staff, who can enable editing functionality for specific sections of the form.
The EAS is accessible at www.mndm.gov.on.ca.
Claim holders who prefer to submit their reports in hard copy may continue to do so.