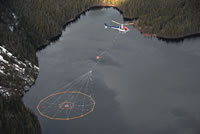 Remote mineral sensing technologies and helicopter-borne time domain electromagnetic surveys in particular received a lot of attention at the Exploration07 conference, held Sept. 9-12 in Toronto.
Organized by representatives from Canada's mineral exploration industry, the conference is held once every 10 years to review recent technology developments. The first of these exploration conferences was held in 1967.More than 1,200 people from 60 countries attended this year's event, almost double the attendance expected by organizers. There were presentations, workshops, a poster exhibition and a trade show.
"In the last 10 years, helicopter-borne time domain electromagnetic surveys have come along enormously in terms of the number of companies offering the service," said Ken Witherly, technical adviser with Exploration 07's organizing committee.
"Ten years ago, there were a few people trying out these techniques, but nothing was flying commercially. You couldn't contract a survey. But, now, the airborne geophysical business is transformed."
The quality of the information coming from these helicopter surveys is so good that they have largely replaced ground surveys, said Witherly, a Canadian ex-pat who works for a geophysical consulting firm in Denver, Colorado.
"They are replacing ground geophysics. The process used to be people would fly a survey, they would do an analysis of the data and they would pick areas to go and do follow-up on the ground," he said.
"Now, with helicopter time domain surveys, you can just do the assessment of the data from the air, and tell the client 'You can drill here and you'll hit the target.' It saves time and resources."
Besides remote sensing, new technologies in geophysics, geochemistry and information management and processing were discussed.
A number of pressing problems in the exploration industry were also topics of discussion at the conference.
Witherly said there are so few geochemists in the world that the profession is on the verge of becoming extinct. In fact, one scientist at the conference told him that there are only 23 geochemists in the entire world.
"They are a very, very, very small profession numerically. There's basically no new ones coming out because the professors that train them (geochemists) are retiring, and they're being replaced by people with different skill sets," he said.
"It's having an impact on the people who are available for the industry to hire to do research."
Another problem is that although unprecedented amounts of money are being spent on exploration, there haven't really been that many discoveries of large mineral deposits, said Witherly.
The world is consuming minerals a lot faster than new deposits are being found, he said.
"Ultimately, the test (of discoveries) is 'Can it be mined and will people make money off of it?' There's always early-stage excitement when people hit something in a drill hole," Witherly said.
"If you look at the Victor (diamond) deposit in the James Bay Lowlands, it was found in the late 1980s, and it's still not in production. Nobody's found another Kidd Creek. Sudbury is great, but there's only one of them."