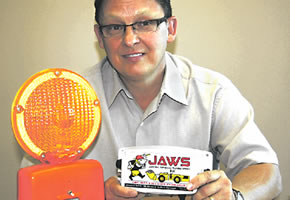 Jannatec Radio Technologies has introduced a collision avoidance system designed to warn miners and vehicle operators of each other's proximity and reduce accidents underground.
JAWS, short for Jannatec Advanced Warning System, is integrated with the company's Johnny Light radio cap lamp and works on RFID technology.
"If a miner is walking through a drift and a vehicle is coming, the miner's light will flash," said general manager Wayne Ablitt. At the same time, a light on the vehicle's dashboard will alert the driver to slow down.
The system was developed and tested in cooperation with CVRD-Inco's Garson Mine in Sudbury.
The JAWS console on the vehicle dash has multiple lights, each of which alerts the driver to a distinct hazard. Red is for miners on foot, blue is for another vehicle and yellow is for a stationary hazard. The system will also facilitate traffic flow for haulage trucks ramping to and from surface.
"A lot of the mines in Sudbury are doing ramping now," said Ablitt.  "When a 50-tonne haulage truck is bringing ore up to surface and meets another vehicle coming down, one has to back up and pull over into a turnoff to allow for clearance because the ramp is only wide enough for one large vehicle."
Using JAWS, the two drivers will be alerted to each other's proximity in advance, allowing one of them to pull over into the nearest turnoff before actually meeting. The system detects potential hazards or other vehicles at a distance of up to 400 feet (122 metres).
The system also includes hazard beacons that can be placed underground to alert vehicle operators to open holes, restricted areas or unsafe ground.
JAWS distinguishes between a miner on foot and a miner who is a passenger in a vehicle.
"When a miner gets in a vehicle, it will automatically block out his signal," explained Ablitt. "When he gets beyond 12 feet of the vehicle, it automatically turns back on."
CVRD-Inco has already committed to 40 units.
Jannatec is also gearing up for the launch of a new version of its Johnny Light radio cap lamp in April.
The company is better able to invest in R&D and tackle the global market since its acquisition by the German-based Schauenburg Group in September 2006, said Ablitt.
"They're looking at a bigger picture than we were. They want to expand much more rapidly."
Schauenburg manufactures machinery and equipment for the mineral processing and chemical industries, ventilation ducting, plastic hose for medical and industrial applications and electronic equipment for mine safety and satellite communications.  It has holdings in Europe, South Africa, China and North America, including an operation in North Bay that manufactures ventilation ducting.
Ablitt, who founded Jannatec with partner Joe Knechtel, said the company had a great product and a solid base of business in the Sudbury Basin, but wasn't able to go global as an independently owned operation.
"The major problem we had was trying to do export sales," he said. "I travelled down to Chile, but people didn't know us and I didn't speak the language. It was difficult. You spend $10,000 going down there and come back with nothing to show for it. We tried to arrange to have dealers, but not knowing the market, it just didn't work out for us."
Selling electronic products in other markets also requires approvals and certifications, which can be different for each country.
"You can't just take a box and say you're going to sell it in Germany or the U.S. There's more to it than that."
Jannatec intends to have its new Johnny Light certified by the U.S. Mine Safety and Health Administration (MSHA) for use in coal mines and hopes to take advantage of U.S. legislation mandating the use of two-way voice communications and personnel tracking.