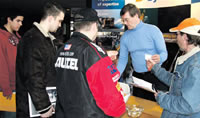 The City of Greater Sudbury ventured into the matchmaking business January 12th, organizing a career fair that attracted approximately 300 young people interested in the mining industry.
The half-day event included an orientation forum in Council chambers, welcoming addresses by Greater Sudbury Mayor John Rodriguez and Ontario Mines Minister Rick Bartolucci and presentations by mining company recruiters. CVRD Inco, Xstrata Nickel, Cementation Canada, Dynatech, the Redpath Group, the Canadian Diamond Drilling Association and the region's colleges and universities set up booths in the City Hall lobby to answer questions and provide information.
Lionol Hawke, a human resources recruiter for Cementation Canada, said the North Bay mining contractor will need to recruit between 150 and 200 miners and tradespeople in 2007 to staff projects across North America. Young people with experience in heavy industry are preferred, but the company is also prepared to train raw talent, said Hawke.
Jim Seeley, a contract administrator with Dynatech Corp., said the demand is so great that "if you're an experienced miner, you can quit your job at lunchtime and have a new job tomorrow morning." For everyone else, it's a case of 'What do you have to sell?'"
Young people with transferable skills, including dump truck and front-end loader operators, are also in demand, he said.
The idea for the matchmaking event came from City staff responsible for administering the provincial government's Ontario Works program.
"We had a lot of people showing up who said they wanted to go into the mining industry," said Vivienne Martin, the City's manager of employment support. "Others were under the impression that all they had to do was get their common core and Inco would hire them. We knew their information was not always accurate, so we thought it would be a good idea to bring them together with the people who do the hiring to clearly explain to them the skills and training they need."
The idea was warmly received by mining company recruiters, who were receiving thousands of questionable résumés from unqualified candidates.
Job seekers packed the Council chambers and an overflow conference room, and booth space in the lobby filled up quickly.
"We figured we were on the right path because we didn't even have to advertise for companies to set up booths. We were already at capacity when we thought of going to the media," said Martin.
In his remarks to the hundreds of young people in the audience, Mines Minister Bartolucci projected a bright future for the province's mining industry.
"We have been mining in Sudbury for well over a century and new and significant discoveries of minerals are still being found," he said. "That bodes well for your career in mining. Moreover, Sudbury is the epicenter of a critical mass of expertise that makes Ontario the global leader in mineral development. We stand out globally, not only for our natural mineral endowment, but also for our strength in all areas of mining."
Sudbury Mayor John Rodriguez, a former school principal and federal member of parliament, reminisced about the mining industry's unsavoury reputation from years ago.
"For a long time, we equated carrying a lunch pail with something no young person should aspire to. [Parents] wanted their sons and daughters to become professionals because they thought that if you wore a tie and suit, you'd have prestige. Well, we know that's not true today," he said. "Years ago, you needed muscles. Today, you need education, drive and commitment."
Overwhelmed by the positive response to the event, City staff are now considering the possibility of a repeat performance – this time focusing on employ-ment opportunities with the region's mining supply companies.