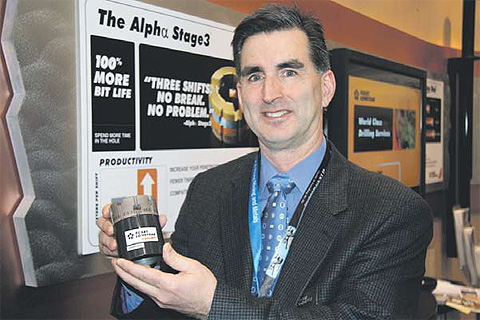 Boart Longyear has introduced a new diamond coring bit that promises to last twice as long as conventional bits. The Alpha Stage 3 impregnated bit features a 25 mm crown designed to expose additional waterways for flushing as the bit wears down.
"The Stage 3 allows you to keep your bit in the hole longer," said Account Manager John Pike, who works out of the company's North Bay location. "You don't have to pull your rods out to change the bit as often."
The new bit was developed by Boart Longyear engineers in Salt Lake City and underwent testing by the company's contracting division in Sudbury.
"The biggest non-productive task in drilling is having to pull up rods, change the bit and send the rods back down the hole," explained Pike.
"If you're drilling a 3,000-foot hole, it could take you all day to pull up the rods, so if you can stay in the hole longer and drill more, you're going to put more core in the box and make more money."
A conventional bit in Sudbury will last an average of 300 feet, he said. A Stage 3 bit will last 600 to 650 feet.
Other bits with very long crowns have been prone to failure, but the Boart Longyear product "is very secure," said Pike.
The Stage 3 bit was introduced at the PDAC in March along with several other new products designed to improve core drilling efficiency.
Also on display at the show in Toronto was the company's new variable wall coring rod. Featuring a thinner wall in the middle, the so-called V-rod is 30 per cent lighter than a conventional rod.
Drilling depth is dictated by hoisting capacity, so 30 per cent less weight should theoretically allow a drilling crew to go 30 per cent deeper, said Pike.
"Instead of having to buy a bigger, more powerful machine, you can use variable wall rods and add 30 per cent capacity to your drilling."
Completing Boart Longyear's lineup of new products is a new, fast descent core barrel incorporating improved fluid porting. Larger ports reduce drag as the core barrel descends through the water, increasing inner tube descent by up to 30 per cent.
www.boartlongyear.com