Increased ounces at Macassa and high-grade at Fosterville could be the key said Mark Utting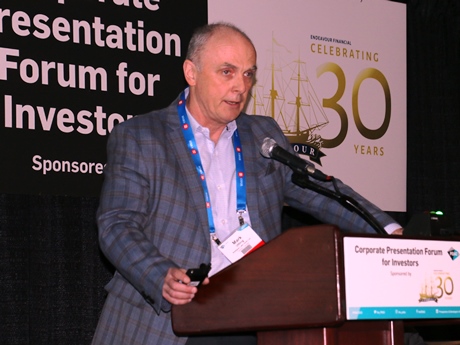 Mark Utting, KL Gold's vice-president of investor relations, was a key speaker at the gold investors' forum held at the annual convention of the Prospectors and Developers Association of Canada (PDAC) in Toronto in early March.
LEN GILLIS / Sudbury Mining Solutions Journal 2019
While the new No. 4 Shaft at Kirkland Lake is getting deeper, things are looking up in terms of production, development and exploration for Kirkland Lake Gold Ltd. (KLG).
That was part of the message put forward by Marc Utting, KLG's vice president of investor relations who was one of the key speakers at the gold investor's forum at the annual convention of the Prospectors and Developers Association of Canada (PDAC), held in Toronto in March.
In fact said Utting, things are looking so good the company is expecting to produce a million ounces of gold this year, or at least come very close to it. He told investors this would include tonnage from the Macassa Mine in KL, the Fosterville Mine in Australia and the Holloway Mine east of Matheson.
"Standing here last year, we would have told you we could achieve a million ounces of annual production in five to seven years," said Utting.
"Now we expect to do it this year, or least be very close to it, with more to come," Utting continued.
He said the key to that achievement is the company mine in Fosterville where the plan is to extract more gold from the high grade Swan Zone which offers significant improvements. That will be complemented by increased mining and milling at the Macassa property in Canada.
Utting explained that Fosterville began operation in 2005 as a low-grade near-surface operation. Ten years later in 2015 that all changed with the discovery of new ore zones. As the company drills explored deeper, the mine got richer he said.
Utting said as the mine went to depth, they encountered quartz zones heavily infused with VG (visible gold) with "ultra-high grade," said Utting.
"That's how you take a mine from 150,000 ounces a year to 600,000 ounces a year, and at very low cost" he said.   He said Fosterville had been able to mine a million ounces of gold with AISC (all in sustaining costs) of about $540 an ounce and a gold price of roughly $1300 on ounce.
The Macassa Mine in Kirkland Lake, Ontario is Canada's answer to the high-grade Fosterville mine he said.
He said Macassa had been mining since 1933, but there was a new discovery a little more than 10 years ago, based on successful exploration drilling.
"It's called the South Mine Complex. It now accounts for about 85 per cent of our reserves. And we think it's an opportunity to grow. And there may be more of them," said Utting.
"The growth we are going to achieve at Fosterville is based on grade. Macassa is a different story. It is going to be based on throughput," he explained.
He said the current shaft and ore-skipping facilities at Macassa are at a peak usage.
"And so we are sinking a new shaft and we are going to double throughput," said Utting.
Utting presented a slide showing significant growth not just in reserves, but also in the grade of the gold being recovered. He said the new shaft will able to bring an additional 4,000 tonnes per day.
"It is a $320 million capital project. It is in two phases, Phase 1 is $240 million that will take it down to 5700-feet with the loading pocket on 5450 level," he revealed.
He said the new No. 4 shaft will have four compartments, allowing two of those compartments to begin skipping ore, to increase overall mine production.
"It will be done by the second quarter of 2022; that's our target," said Utting.
As that work goes on, the next step is to use the other two compartments to continue sinking the shaft to the 7,000 foot level he said. This would be done at a cost of an additional $80 million that should be completed by the end of 2023.
Just as important said Utting is that the company has an "aggressive and effective" plan for exploration, hoping to find more and bigger gold zones.
"We are spending $100 million to $120 million in exploration this year," he said. Most of the exploration budget is earmarked for Australia, but Utting said there are still several exploration targets open in Northern Ontario.